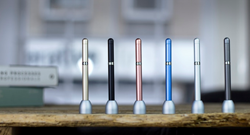 We already have more than 1,100 backers with just under a month to go in our campaign, we're very pleased to see Magno-Ink is a 'must-have' product on Kickstarter – especially among early-adopters of our magnet-propulsion technology
BRISTOL, United Kingdom (PRWEB) November 24, 2017
Magno-Ink, the world's most intelligent magnetic pen created by HribarCain, continues to write a success story on Kickstarter by raising more than $75,000 (USD), nine times its original campaign goal, on the crowdfunding website Kickstarter.
"We're glad to see that this revolutionary technology continues to draw a tremendous amount of support within the crowdfunding community," said HribarCain co-founder, Matthew Aston Cain. "We already have more than 1,100 backers with just under a month to go in our campaign, we're very pleased to see Magno-Ink is a 'must-have' product on Kickstarter – especially among early-adopters of our magnet-propulsion technology."
The introduction of the new Magno-Ink follows the success of the Magno product HribarCain launched last year, the world's first magnetically-controlled pencil, that raised more than $100,000 on Kickstarter. The design engineers at HribarCain who developed the Magno and Magno-Ink were at technology giant Dyson before starting their own design studio in the United Kingdom to create their own innovative products.
The Magno-Ink, which uses a unique magnet propulsion system to activate the pen, is also engineered so the weight in the user's hand is perfectly poised for use – with the center of gravity slightly lower than a conventional pen to provide more comfort during extended use.
Magno-Ink's design features include:

Energized by Neodymium Magnets
Telescopic design
A water- and scratch-resistant surface
An aircraft grade aluminum surface
Providing an offset center of mass to achieve anti-roll, the only pen in the world that works in this way
A docking station upgrade
A range of available colors
Blue and black ink cartridges
Custom magnetic close case packaging with ribbon release
A lifetime warranty
Based on the feedback from early backers, the HribarCain team also made a small design change to the pen during the current campaign that allows traditional ink cartridges to be used with the Magno-Ink.
Magno-ink is available on Kickstarter until December 15, 2017, with shipping to anywhere in the world. For more information and to pre-order, visit the Magno-Ink Page on Kickstarter.
About Magno-Ink by HRIBARCAIN
Design Engineers Ashley Hribar-Green and Matthew Aston Cain have a strong passion for innovating products that have become stale and unchanged. Their goal is to make affordable luxury for everyone. The co-founders believe that having people enjoy their products is more important than making profits, and that this attitude is essential to growing their business.