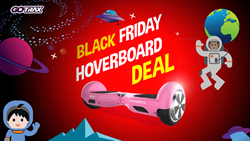 DENVER (PRWEB) November 24, 2017
GOTRAX™, the Denver-based brand of premium hoverboards and electric rideables, today announces the biggest Black Friday and Cyber Monday hoverboard deals on its line of HOVERFLY hoverboards.
Highlights include the UL-certified HOVERFLY ECO for only $147 ($199.99 MSRP) and an impressive $70 off the off-road ready HOVERFLY XL, making the high-end all-terrain hoverboard available for only $229.99 ($299.99 MSRP).
The special holiday sale pricing on hoverboards and other GOTRAX hoverboards and accessories is available now exclusively at GOTRAX.com and applied automatically at checkout along with free shipping.
BLACK FRIDAY / CYBER MONDAY HOVERBOARD SALE PRICING
HOVERFLY ECO | $147 ($199.99 MSRP)
HOVERFLY | $179.99 ($229.99 MSRP)
HOVERFLY PLUS | $189.99 ($249.99 MSRP)
HOVERFLY XL | $229.99 ($299.99 MSRP)
HOVERFLY KART | $59.99 ($69.99 MSRP)
GOTRAX HELMET | $24.99 ($39.99 MSRP)
The brand also just published "Hoverboards: The Ultimate Holiday Buyer's Guide," a multimedia experience designed to help parents make informed decisions when shopping for hoverboards, regardless of brand.
LOOK: EXPLORE 'HOVERBOARDS: THE ULTIMATE HOLIDAY BUYER'S GUIDE'
The guide covers topics like UL certification, performance, what features are important, value, customer service and more with a variety of colorful infographics, animated videos, an interactive Hoverboard Safety Quiz and, of course, detailed walkthroughs of what to look for when purchasing a hoverboard and why.
GOTRAX recently expanded its line of electric rideables with the HOVERFLY KART and GOTRAX HELMET, and also added an optional one-year extended warranty to give buyers even more confidence in their holiday purchases. All GOTRAX products are now available at the lowest prices of the year for a limited time at GOTRAX.com.
Want to join the GOTRAX™ affiliate program? Apply here.
Learn more and shop Black Friday hoverboard prices at GOTRAX.com
GET SOCIAL: @RideGOTRAX
ABOUT GOTRAX
Welcome to the GOTRAX™ GALAXY, where every day's the weekend and robots are our friends. We're on a mission to create electric rideables that boost imaginations and the possibilities for personal transportation. As of 2017, GOTRAX is dispatching electric rideables across the planet, starting with the HOVERFLY two-wheel self-balancing electric scooter aka hoverboard. Our company values start right here in our Denver-based marketing headquarters, where our team works their space boots off to raise the standards of the electric rideables industry.
GOLABS, INC™ DBA GOTRAX™
###
MEDIA INQUIRES
Don Stefanovich | press(at)gotrax.com