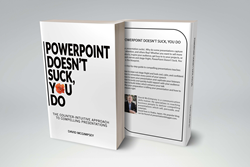 Strong presentation skills are more important than ever
(PRWEB) November 27, 2017
Presentation Blogger dot Com, leader in presentation skills resources, today announced the launch of a new book PowerPoint Doesn't Suck, You Do. This step-by-step blueprint leads the reader through the preparation and delivery of a fear-free, audience-focused presentation for business or school.
"Nobody teaches business people how to do presentations," says author, David McGimpsey. "We end up copying what our workmates did in their last presentation, and the cycle of boring, anxiety-fueled speeches continues. In 'PowerPoint Doesn't Suck, You Do' I've created a presentation blueprint with a focus on anxiety-reduction, confidence-building, persuasion, and engaging message delivery."
"Strong presentation skills are more important than ever," says David. "Being able to communicate a message simply and persuasively can determine how successful you'll be in your job. Take it from someone who learned the hard way: Improve how you sell your ideas or risk getting passed over at work."
About the author: David McGimpsey is a communication skills trainer. He specializes in coaching business people to deliver compelling presentations which sell, perusade, and entertain. David lives in Osaka, Japan. His popular blog can be found at presentationblogger.com.
About the book: Why do some presentations capture our attention, and others flop? Whether you want to sell more products, inspire your audience, get buy-in to your projects, or squash nerves and stage-fright, PowerPoint Doesn't Suck, You Do, is the blueprint. This counter-intuitive approach to compelling presentations is available in paperback and Kindle at: https://www.amazon.com/dp/1979595801/
Author and book press images are located here.