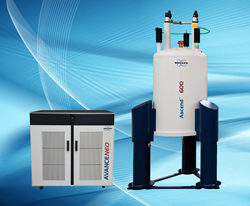 Our investment in this state-of-the-art spectrometer reflects our continued commitment to provide our world-class NMR scientists with the tools necessary to obtain valuable chemical information for the clients we serve
WEST LAFAYETTE, Ind. (PRWEB) December 14, 2017
SSCI, part of AMRI's Global Analytical Services, will expand its nuclear magnetic resonance (NMR) spectroscopy capabilities with the addition of the Bruker AVANCE NEO 600 MHz NMR Spectrometer.
"NMR is a core technology of our global analytical and solid state chemistry service offering. Our investment in this state-of-the-art spectrometer reflects our continued commitment to provide our world-class NMR scientists with the tools necessary to obtain crucial chemical information for the clients we serve," said Pamela Smith, Ph.D., vice president, global analytical services.
The Bruker AVANCE NEO 600 MHz NMR will provide SSCI with enhanced productivity for delivering high quality NMR data with increased sensitivity utilizing a cryoprobe. Having the 600 MHz NMR spectrometer will c omplement the existing 400 MHz NMR spectrometer already in cGMP service at SSCI. This higher field instrument will expand the tools that SSCI's scientists have to support rigorous method development and validation and complex structure elucidation for small and large molecule applications, including peptides, proteins (such as monoclonal antibodies and antibody-drug conjugates), modified or unmodified ribonucleic acids (RNA), and deoxyribonucleic acids (DNA). This capability will also allow SSCI to support the FDA requirements for biosimilarity testing and USP (e.g., heparin) testing requiring higher field NMR.
The new 600 MHz NMR spectrometer, which will be operational in late 2018, provides direct access to high-quality data as a stand-alone service offering and will further enhance the valuable information that AMRI delivers from other chemistry services including polymorph, salt and cocrystal screens. By consulting with AMRI now, clients can factor the expanded capability into their project timelines to ensure it will be ready for their programs.
According to Patrick Tishmack, Ph.D., director of analytical development at SSCI, this addition will bring significant value to AMRI's clients. "With two NMR spectrometers configured for testing of liquid and solid samples concurrently and under cGMP, coupled with our industry-leading expertise in solid-state chemistry, will result in data and corresponding expert scientific interpretation at a standard that is unmatched in the contract solid-state and analytical services industry," Dr. Tishmack said.
About SSCI
AMRI SSCI, LLC (SSCI), a division of AMRI (AMRI), provides industry leading contract solid-state and analytical testing services and exists to help companies in the pharmaceutical, food, agrochemical, and other chemical industries develop better products and get them to market more quickly. Over the past quarter century, SSCI has provided comprehensive cGMP research and analytical services in the characterization and chemistry of solid materials, with particular expertise in small and large molecules being investigated for pharmaceutical use. SSCI's offerings include early candidate support services (in vitro analysis, stability, solubility, dissolution, excipient compatibility), solid-form screening and polymorph, salt and co-crystal screening, form selection, particle engineering (process development, particle size method development), property improvement, crystallization of difficult materials, process control, biochemical analysis, full analytical chemistry support including method development and validation, intellectual property consulting and litigation support, and related research activities. For more information about SSCI's analytical and solid-state services, please contact 1-800-375-2179 (1-765-463-0112).
Media Contact:
Gina Rothe
gina.rothe(at)amriglobal(dot)com
518-512-2512