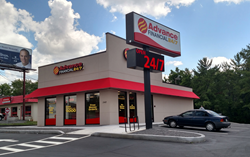 At Advance Financial, we are committed to serving more residents in East Tennessee.
NASHVILLE (PRWEB) November 30, 2017
The fastest growing small-dollar loan financial services company in Tennessee, and one of the leading companies nationwide within its industry, continued its expansion in the Tennessee market today with the opening of a store in Alcoa. The opening marks the 80th location for the company.
The new Alcoa store opens today at 348 South Calderwood Street. As with all other Advance Financial stores, this location will remain open to customers 24/7 thereafter.
"At Advance Financial, we are committed to serving more residents in East Tennessee," said Tina Hodges, the company's chief executive and chief experience officer. "That's why we decided to open our first store in Alcoa, and why we are looking forward to becoming a part of the community here. We're excited and ready to start assisting local residents in securing their financial futures."
Advance Financial offers a range of financial services including prepaid cards, electronic wire services to anywhere in the world, check cashing, free bill-payment services and free money orders. The company's loan product is not just a small dollar loan, but a flexible line of credit – called a FLEX Loan – that offers customers the freedom of access to funds on their schedule with no late fees or early payoff penalties.
Founded 20 years ago, Advance Financial is a family-owned company based in Nashville that has significantly expanded its footprint throughout Tennessee in recent years. Its first locations outside of Middle Tennessee were in and around Chattanooga and Knoxville.
About Advance Financial
The company currently operates more than 85 locations throughout Tennessee and employs more than 800 local representatives. By focusing on a wide variety of financial services – including wire transfer, bill payment, unlimited free money orders and FLEX loans – they are committed to building long-lasting, strong relationships with every customer. Advance Financial recently earned an A+ rating from the Better Business Bureau and was named to the Inc. 5000 list of the fastest-growing private companies in the country for the sixth year in a row.