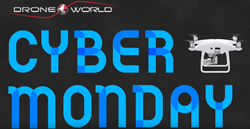 (PRWEB) November 27, 2017
Cyber Monday is the most anticipated shopping day of the holiday season – 72% of consumers are more excited for Cyber Monday than any other end-of-year sales day (according to a study of retail analytics by Euclid). It makes perfect sense then, that a company that sells all of their products online like Drone World (drone-world.com) would have customers anxiously counting down the hours til they can score some sweet Cyber Monday DJI drone deals like the Spark, Mavic & Phantom 4 (See All Here). The holiday deal bonanza is in full swing at Drone World, with massive Cyber Monday DJI drone sales across the board on all the best accessories and Drone World DJI Drones and drone kits.
Customers can buy more and save, with the sweetest deals being on Drone World upgrade kits, the company's bread and butter. From $100 off the DJI Spark Drone & Fly More Combo (Here) and $150 off DJI Mavic Pro Bundles (Here), to a Free Battery with all ($170 off) Phantom 4 Pro, Adv & Plus Bundles (Here), drone lovers are sure to find great deals all over the place. While the kits are the main attraction, there are great deals to be had on solo purchases: $100 off the Spark, $100 off the Mavic Pro, and $50 off DJI Goggles if bought with a drone. Plus, all Drone World brand accessories are 25% off with the coupon code found on drone-world.com! See the product links above to access accessories for the DJI Spark, DJI Mavic Pro, and DJI Phantom 4 series.
Drone World also now offers drone financing (learn more here) with the lowest monthly payments available, so customers can get the best drone and accessories they need now and can pay over time.
"We know that savvy buyers will come in droves to buy fantastic DJI drones, and we're hopeful that first-time buyers can find the right combination of drones and drone kits to make them happy," said Stephen McKenna, President and Founder of Drone World. He continued, saying "Our website is peppered with great deals this holiday season, and we hope drone fans can take full advantage of the deeply discounted sale prices for our DJI drone kits and Drone World accessories.There's a little something for everyone, and we've even added some brand new accessories for the first DJI mini drone, the DJI Spark. This pint-sized aircraft is a marvel to behold, and turns heads wherever it goes; so we made sure to offer drone enthusiasts numerous items to help them fly safer, fly longer, and fly further."
Drone fans can also win their very own Mavic Pro Platinum MaXX Mod through Drone World's Giveaway by visiting Drone World's Facebook page at Facebook.com/DroneWorldTeam. The giveaway lasts through December 20th, and all are encouraged to enter by signing up and liking the Drone World Facebook page.
About Drone World:
Drone-World.com is the Web's preferred destination for consumer and professional unmanned aerial drones, drone kits, and drone accessories. Drone-World.com combines superior customer service and know-how with over 5 years of drone experience and 10 years of web sales and service. They specialize in custom DJI Phantom & Mavic bundle kits, including the highly popular DJI Phantom 4 Pro/+ Executive & Falcon Edition kits featured in RotorDrone Magazine as well as commercial use Inspire 2 kits, Osmo kits and the newly released DJI Phantom 4 Pro kit and the DJI Phantom 4 Pro+ (Plus) bundle.
For more information contact:
(888) 901-3108
sales(at)drone-world.com