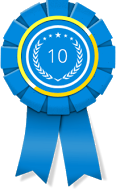 PORTLAND, Ore. (PRWEB) November 29, 2017
10 Best Design is excited to reveal the winners of its Best Custom Web Design Agency awards for November 2017, naming Forix Web Design as the top honoree.
10 Best Design is pleased to continually develop new awards contests to ensure that business owners can gain access to information regarding which marketing agencies offer the most exemplary, effective services. The company's new award category, Best Custom Web Design Firm, can help business owners decide which top custom web development agency they should consider for their needs.
November's top custom web design firm is Forix Web Design. Business owners who are interested in attaining cutting-edge, customized web design services from a community of creative marketing experts who know what they are doing should consider Forix Web Design. Doing so will empower the business to work with a team of professionals who are committed to understanding the unique brand vision of the corporate leader. Once the team has attained this knowledge, they utilize highly specific, contextual web design and development services to advertise the client's brand with excellence.
Leading custom web design firm Ruckus Marketing emerged in the second position on this month's list of winning agencies. Ruckus Marketing is the web design and development team to trust for business owners who are serious about getting things done in the perpetually evolving world of internet advertising. The web services provided by the professionals of Ruckus Marketing work because they ensure that the client's site is interesting, functional, cross-compatible, and aesthetically-appealing. Additionally, the Ruckus Marketing professionals continually interface directly with the business owner to ensure that she or he knows how the web optimization process is progressing.
Arhue also earned a spot on the list of top custom web development agencies. Corporate leaders who want real results in the world of web design and development should make a point to connect with the techies of Arhue. These industry experts work with dedication, diligence, and determination to make the client's website aesthetically appealing. They also deploy strategies to make the site highly functional. Another big advantage that results from working with the Arhue techies is that they use analytics and research to continually update and optimize the web optimization work they do so that the client can attain the most impressive return on investment (ROI) possible.
For more information about this month's award winners, visit http://www.10bestdesign.com.