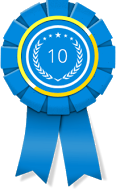 NEW YORK (PRWEB) November 30, 2017
10 Best Design recently presented the winners of its Best WordPress Web Design Firm awards for November 2017, selecting Ruckus Marketing, Forix and Arhue as the leaders in this category.
Headquartered in San Francisco, Calif., the 10 Best Design team is comprised of professionals with experience in web design, digital scripting languages, app development, brand strategy and search engine optimization (SEO). The team's strong professional background gives 10 Best Design specialized insight for identifying the top digital agencies.
Firms receiving placement on 10 Best Design award lists are those who rise to the top of their professional categories. 10 Best Design awards are bestowed after rigorous review and consideration, including passing 10 Best Design's proprietary analytics review, online research, analysis of website traffic and more. 10 Best Design's close scrutiny ensures that every company receiving its prestigious WordPress development award is truly a top WordPress website development agency.
The companies that were recipients of the Best WordPress Web Design Firm awards are truly exemplary. They work with clients to design WordPress websites that are dynamic, compelling and pleasing to the eye.
Ruckus Marketing is leading WordPress web design firm based in New York. It specializes in helping clients differentiate their brands from the unnoticed noise in the market place. Their approach is one of creating strategic disruption. Ruckus Marketing has worked with high profile clients, such as Harley Davidson, but also welcomes clients who are just starting to grow their brands.
Based in the Portland, Ore., Forix increases website traffic and revenue through improved CMS and fresh, responsive web design. This, in part, is why it was selected as one of the top WordPress website development agencies. The multi-disciplinary Forix professionals have been part of more than 700 successful website launches, proving themselves as a top-level, experienced team. Forix prides itself on a unique and customized approach to every client's situation. Forix is a premier digital solutions provider.
Arhue is a leading WordPress web design firm that merges creativity with innovative web design that gets results. In 2011, the California premier digital agency opened its doors to serve clients who wanted to take their brand to the next level. Arhue has worked with brands such as Google, Samsung and the NFL. The Arhue team is unafraid of hard work and will go the extra mile to help clients reach their goals.
For more information about the winners for November, visit http://www.10bestdesign.com.