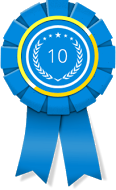 NEW YORK, N.Y. (PRWEB) November 27, 2017
For November 2017, 10 Best Design appointed three companies to occupy the first three spots of its Best Web Design Firm list for New York area-based agencies. They are Ruckus Marketing, jakt, and Lounge Lizard.
As the division of 10 Best Network LLC dedicated to rating and ranking web design-oriented digital marketing firms, 10 Best Design uses various criteria to do so. That includes industry data, website traffic, online research, and expert ranking and reviews. 10 Best Design is comprised of highly-experienced professionals in the web design field.
According to 10 Best Design, Ruckus Marketing sits in the first position on its list of top NYC website development businesses. Since 2002, the agency has worked with clients to design their logos, develop mobile apps, and optimize their websites. Ruckus Marketing's clientele has included Acoustic Tailor, Accusonic Voice Systems, Baked by Melissa, House of Horology, the American Heart Association, Empactful, Owl Computing Technologies, Brewers Hill Development Group, Freedom Boat Club, The Catholic Diocese of Brooklyn, Lydell NYC.
Ranked second on the list as a top web design firm is jakt, which focuses on helping companies develop apps that support and enhance their operations. Consequently, such companies can focus more on other business-related aspects and see their profitability or revenues increase. jakt has worked with clients such as the city of Las Vegas, Crashr, Altalpsum, AlleyNYC, IDEO, Netflix, /Slash, Jopwell, Anheuser-Busch, Citelighter, Airtime, SquadUp, and Style Coalition. jakt has been serving clients since 2012.
Leading web design firm Lounge Lizard comprises a staff that amusingly refers to itself as "lizards." Lounge Lizard's strength as a web design firm lies in its staff's ability to regularly deploy HTML5 and CSS3 scripts to the back end of clients' domains, including others that have object-oriented mechanisms. In addition to having a headquarters in New York City, Lounge Lizard maintains an office in Long Island as well as in Los Angeles. To support its web development and design efforts, the company uses tools like search engine optimization (SEO), reputation management, pay-per-click (PPC) advertising, conversion rate optimization (CRO), social media and email promotion, and content curation and creation. Lounge Lizard's clientele has included Random House, St. Paul Home Products, Renaissance Capital, The Broadway League, Festo, Zyta-C, Honeywell Total Comfort, and Niru Group.
To learn more about this month's winners, visit http://www.10bestdesign.com.