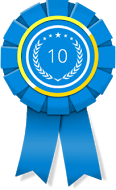 SAN FRANCISCO (PRWEB) November 28, 2017
10 Best Design is honored to release the names of the winners of its November 2017 awards for the top LA web development agency—EIGHT25MEDIA, Isadora Agency and SDG. Each month, 10 Best Design publishes a variety of awards for web design companies to assist businesses who are searching for potential vendors.
First on the November list of top LA web development agencies is EIGHT25MEDIA. Headquartered in San Francisco, California, this company is home to many talented professionals who have a great deal of expertise in web design and development. They are very passionate about what they do, and they make it habit of working together for each of their clients in order to help them achieve the best online experience that they can, in order to reach their target audiences in the most effective way possible. They are happy to be part of a field where they can benefit people in both the business and consumer arenas, and they are aware of the role that a website can play in any company's comprehensive marketing strategy.
Appearing second on the list is Isadora Agency, a leading web design firm headquartered in Manhattan Beach, Calif. This company is capable of providing assistance in various areas of design and development, including security measures, custom coating, and graphic design. They pride themselves on being able to provide their clients with a comprehensive suite of services when it comes to web design. They are well known for giving their clients happy surprises and going above and beyond the expectations of each of their diverse array of clients.
In third place on the November list is SDG, a top web design firm based in Los Angeles, California. The business is completely driven by referrals and will not make a client pay for something that is not necessary. The primary focus of this group of talented professionals is mobile first-user-experience driven design. SDG has a team that is completely in-house and has very strong abilities in both design and coding. They also can help with web creation, Android applications, iOS applications, Shopify, and other clever consulting services. This company aims to please, no matter what they are doing for their clients.
For more information about this month's winners, visit http://www.10bestdesign.com.