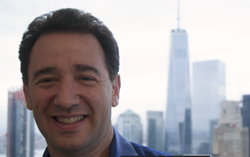 Making higher education more affordable is paramount. We have a duty to ensure we're doing our part to help students achieve their fullest potential. --Craig Bleyer, GM, Institutional Business, Macmillan Learning
NEW YORK (PRWEB) November 28, 2017
Macmillan Learning, a premier educational solutions provider, today announced the appointment of Craig Bleyer as General Manager of its institutional portfolio of businesses. Mr. Bleyer will oversee the institutional division, which includes iClicker, Skyfactor, and Intellus Learning and will report directly to Macmillan Learning CEO, Ken Michaels. While each of the companies have been operating independently, this new, joined up organization will seek to hone insights on student engagement and retention to deliver improved outcomes.
Commenting on the appointment, Macmillan Learning CEO, Ken Michaels stated, "By transforming our institutional portfolio and centralizing the leadership team, we are poised to deliver actionable insights on affordability, retention, and engagement, which our customers have been clamoring for. Craig is the absolute right leader needed at the right time. His unwavering focus on the customer will galvanize the team and accelerate our plans to become the learning insights company."
Highlights of Mr. Bleyer's impressive 27-year career in publishing include launching the popular Economics by Paul Krugman and Robin Wells, as well as Calculus by Jon Rogawski, during his time as a Senior Publisher at Bedford, Freeman & Worth. He also led the strategy to grow BFW's High School unit by integrating the sales, marketing, and editorial operations, while publishing new titles designed specifically for the Advanced Placement (AP) community. Most recently, Craig led the sales teams at Macmillan Learning, guiding the group through changing business models, creating a more focused, solutions-oriented approach, all while outpacing the market in overall growth. Mr. Bleyer is no stranger to digital publishing, having launched Macmillan's first online homework system and contributing to the meteoric growth of the Sapling homework platform.
"Making higher education more affordable is paramount," said Mr. Bleyer. We have a duty to ensure we're doing our part to help students achieve their fullest potential. I'm honored to lead this talented team in partnership with higher education institutions to improve lives through learning."
To learn more about Macmillan's portfolio of content and services, please visit: http://go.macmillanlearning.com/institutional.html.
About Macmillan Learning:
Macmillan Learning improves lives through learning. Our legacy of excellence in education informs our approach to developing world-class content with pioneering, interactive tools. Through deep partnership with the world's best researchers, educators, administrators, and developers, we facilitate teaching and learning opportunities that spark student engagement and improve outcomes. We provide educators with tailored solutions designed to inspire curiosity and measure progress. Our commitment to teaching and discovery upholds our mission to improve lives through learning. Macmillan Learning includes both academic and institutional divisions. To learn more, please visit http://www.macmillanlearning.com or see us on Facebook, Twitter, LinkedIN or join our Macmillan Community.