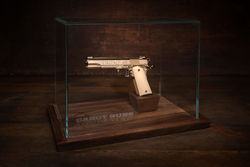 "The TRUMP 45 commemorative pistols will be one of the most significant collection of pistols ever built"
PITTSBURGH (PRWEB) November 29, 2017
Cabot Guns, elite manufacturer of precision, American-made firearms, today debuted its new commemorative Trump 45 pistols finished in 24 karat gold. The guns also contain elements made from meteorite. This limited edition, heirloom-quality 1911 style pistol features engravings of "TRUMP 45" on one side and "45th President of the United States" on the other.
"Making a great American product is how we express our appreciation for President Trump's commitment to making America great again," said Rob Bianchin, Founder and CEO of Cabot Guns. "The TRUMP 45 commemorative pistols will be one of the most significant collection of pistols ever built and are an example of what President Trump is talking about. Each Cabot 1911 is 100% made in America and constructed from a block of steel to aerospace tolerances and with artisan finishes. It's a fitting tribute to his leadership and vision."
Beyond the precision and provenance of the Cabot brand, each pistol will boast a polished gold finish, grip panels crafted from indigenous American Holly and a trigger and front sight crafted from 4-billion-year-old meteorite, symbolizing the meteoric focus of the Trump Presidency and commitment to America.
The Trump 45 pistols are the latest in Cabot's resume of Presidential Editions. The company has been privileged to have crafted pistols for Kings, Royalty, Heads of State, as well as numerous celebrities and captains of industry. Yet, as Bianchin noted, it is with particularly distinct honor that Cabot is producing this tribute to President Trump. "The election of President Trump was critical to those of us who value upholding the constitution, especially the Second Amendment."
Only 45 units of the "Trump 45" pistols will ever be produced, of which 44 will be offered to the public. Some units will be available for direct sale while the rest are likely go to auction. The pistols are serialized sequentially, starting from George Washington (WASHINGTON01) through Donald Trump (TRUMP45).
"Cabot Guns has quickly become the Rolls Royce of 1911s. Already very collectible, they also shoot as well as they look. No expense has been spared to make these Model 1911 variations the world's finest pistols—truly modern-day heirlooms," says, S.P. Fjestad, Author & Publisher, Blue Book Publications, Inc.
Sale prices are expected to range from $15,000 to $35,000. Premium serial numbers are likely to eclipse $50,000 or more. Each pistol is housed in a custom-made, museum-style glass display with a wood base containing artifact wood in-lays from the U.S.S. Constitution, the wooden-hulled Naval vessel named by George Washington.
The 1911 is the enduring American pistol design and was carried by every brave man and women who served the United States from WWI through the 1980s. It is still venerated today as an effective weapon. In this spirit, the glorious .45 caliber 1911, an iconic American design by John Moses Browning (called a "45") is the ideal instrument to tribute our 45th President.
Chris W. Cox, Executive Director, NRA-ILA says, "President Trump's election was of historic importance to all of us who cherish and value the Second Amendment. We're proud to stand with President Trump and Cabot Guns in defense of our right to keep and bear arms."
Cabot Guns is renowned for creating investment grade works-of-art out of the 1911 style pistol platform. In 2016 Cabot created the Big Bang Pistol Set, a fully-functional matching set of pistols built from a 4.5-billion-year-old metallic meteorite that is considered by many as the "holy grail" of firearms. Cabot's use of aerospace techniques and commitment to American made has set a new standard for precision and quality. The Trump 45 Pistol collection is the latest edition from a truly American company.
For more information, visit http://www.cabotgun.com