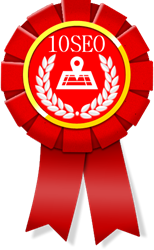 CHICAGO, Ill. (PRWEB) November 30, 2017
10 Best SEO recently presented the winners of its Best Local SEO Agency awards for November 2017, selecting Straight North as the leader in this category.
Every month, 10 Best SEO gives out awards to the best companies in different sectors of the world of SEO. It is particularly important to make sure that the company has SEO that appeals to local clientele, so that the company can build its business from right where it is. Following are summaries of the top three candidates for this month's award.
It is not surprising that Chicago, Ill.-based Straight North emerged at the top of the list of leading local SEO firms. For any company that is looking to optimize its website for marketing purposes, a localized SEO strategy will be extremely helpful. This company will be able to provide a business with that strategy and many more tactics to increase and boost the company's online presence. Any company that decides to work with this firm will see exactly what they have to offer and just how good of a job they do when it comes to boosting the visibility of the products and services that the company has to offer.
The number two candidate for the coveted title of best local SEO firm is Boostability. Based in the city of Lehi, Utah, this company has built a very strong reputation as one of the best agencies when it comes to SEO. It has been in business since 2009 and offers a variety of services, including website content services, local search marketing, link building, social media marketing, and mobile web design, among others. They focus mostly on helping small businesses, and they have worked with thousands of clients, including Sun Valley Animal Hospital, Elves and Angels, Himalayan Salt Shop, and many more. This company has a main base in Utah, in addition to two other offices in the state and two offices located overseas in Amsterdam and Berlin.
Coming in at number 3 is Ignite Visibility, a top local SEO agency headquartered in San Diego, Calif. This company is home to many skilled professionals who are adept when it comes to promoting the brands of their clients. Companies put quite a bit of money into advertising tools such as SEO and PPC, and the services provided by this agency allow them to get better returns on their investments.
To learn more about this month's winning companies, visit http://www.10bestseo.com.