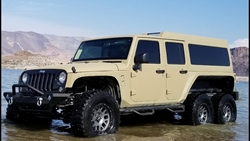 The company plans to develop the first Autonomous Off-Road Vehicle.
LAS VEGAS (PRWEB) November 28, 2017
Driving a massive all-terrain vehicle that can withstand the elements conjures up images of Rambo-esque movie scenes, and other glamorous outdoor adventures. Now, K-6 Industries, a vehicle manufacturer based in Las Vegas, NV is adding to that image, in a big way.
Just a few short blocks from the glitz and glamour of the world famous Las Vegas strip, the company has built the most exquisite line of 6x6 (Six-wheel drive) off road vehicles. Based on the Jeep platform, the vehicles can accommodate up to 7 passengers with the addition of 3rd row seating, yet still feels incredibly spacious due to the aerodynamic, patented raised roof design. For those with discerning tastes, this luxurious vehicle features opulent two-tone leather interior, a 2,500 Watt Audio/Video system and a 42 inch TV that slides out for viewing when enjoying the outdoors.
A hidden safe, fingerprint activated gun compartment and supercharged engine are just a few of the features that rival any James Bond vehicle. There are several other features that the company will only reveal to potential buyers. In addition, K-6 Industries also produces military and law enforcement versions. The 6x6 vehicle is capable of withstanding much tougher terrains than its 4 wheel counterpart.
While most car companies race to develop self driving street vehicles, K6 Industries is taking a different approach by developing autonomous off-road 6 wheel drive vehicles.
Long time vehicle designer and CEO Ron Steinberg says, "The company hopes to fill a void left by Faraday Future, by hiring approximately 100 employees at our Las Vegas facility to develop the self driving off road model."
We are proud to be the first company utilizing this approach and excited to do it right here in Las Vegas.
This incredible masterpiece can be seen at the LA Auto Show Dec. 1st - Dec. 10th, 2017.