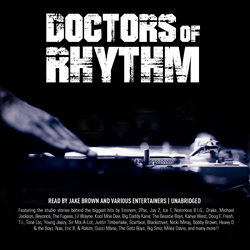 Taking fans on a first-hand aural tour through many of Hip Hop's most historic recording sessions, these producers offer exclusive, front-row studio stories behind the creation of timeless Rap classics from the 1980s through present day
ASHLAND, Ore. (PRWEB) November 28, 2017
The Recording Studio has long been referred to as "the lab" in record producer slang, and its a term that Hip Hop producers invented, along with generations of hits by the biggest stars in the game, including Eminem, 2Pac, Notorious B.I.G., Lil Wayne, Drake, Beyoncé, The Fugees, The Beastie Boys, Kanye West, and many more revealed over 20 hours and chapters in a brand new audiobook from Blackstone Audio hitting stores on December 5th, "DOCTORS OF RHYTHM: Hip Hop's Greatest Producers Speak," narrated by author Jake Brown along with the legendary producers interviewed in-depth throughout the book's 20 chapters.
Tracing the roots of every one of HIP HOP's dominant sub-genres back through the roots of the producers who quite literally invented them, the Doctors of Rhythm interviewed here in first person throughout the book include the architects of every sub-genre of Rap across every Coast, from East Coast pioneers like Wyclef Jean, Eric B, Pete Rock, Easy Mo Bee, and Teddy Riley, West Coast Rap originators Afrika Islam, Sir Mix-a-lot, Johnny J, and Mario C, Southern Rap Godfathers Like Bounce inventor Mannie Fresh, longtime Scarface/Ugk collaborator N.O. Joe, Trap Architects Drumma Boy and Bangladesh, and Millennial Superstars, including Timbaland's right hand man Jerome 'J-Roc' Harmon, Kanye West's Co-producer Mike Dean, Drake/Rihanna Hitmaker Boi 1da, Eminem producers Jeff Bass and Frequency, and Nashville hip hop producers Aaron Harmon and Jon Conner.
Taking fans on a first-hand aural tour through many of Hip Hop's most historic recording sessions, these producers offer exclusive, front-row studio stories behind the creation of timeless Rap classics from the 1980s through present day, including Tone Loc's "Wild Thing," Doug E. Fresh's "The Show," Young M.C.'s "Bust a Move," Eric B & Rakim's "Don't Sweat the Technique," Ice T's "6 N the Mornin'," Sir Mix-A-Lot's "Baby Got Back," The Fugees' "Killing Me Softly," Bobby Brown's "My Prerogative," the Beastie Boys' "Sabotage" and "Intergalactic Planetary," Tupac's "How Do You Want It," the Notorious B.I.G.'s "Big Poppa," Blackstreet's "No Diggity," Juvenile's "Back that Azz Up," Eminem's "Not Afraid" and "Lose Yourself," Drake's "Forever" and "0 to 100," Lil Wayne's "A Mili," Kanye West's "Stronger," Young Jeezy's "Standing Ovation," Shakira's "Hips Don't Lie," Rihanna's "Work," Beyonce's "Diva," Nicki Manaj's "Anaconda," and Michael Jackson's "Remember the Time" and "Love Never Felt So Good" among hundreds of hits!
The Book is available for pre-order on Amazon: https://www.amazon.com/Doctors-Rhythm-Greatest-Producers-Speak/dp/1538485427/ref=sr_1_1?s=books&ie=UTF8&qid=1511146959&sr=1-1&keywords=Doctors+of+Rhythm+Jake+Brown
and on Downpour.com: https://www.downpour.com/doctors-of-rhythm?sp=208557
Check Out Exclusive Audio Excerpts Below:

Boi 1da discussing the creation of Eminem's # 1 hit "Not Afraid,"
https://soundcloud.com/user-603832778/boi-1da-re-producing-eminems-not-afraid-from-doctors-of-rhythm-book
Wyclef Jean on the Production of the Fugees' "Killing Me Softly"
https://soundcloud.com/user-603832778/wyclef-jean-re-producing-the-fugees-killing-me-softly-for-doctors-of-rhythm-audio-book
Sir Mix-A-Lot on the Production of his signature # 1 hit "Baby Got Back"
https://soundcloud.com/user-603832778/sir-mix-a-lot-re-writing-recording-baby-got-back-for-doctors-of-rhythm-audio-book
Teddy Riley on the Production of Bobby Brown's "My Prerogative"
https://soundcloud.com/user-603832778/teddy-riley-re-producing-my-prerogative-from-doctors-of-rhythm-audio-book
For more information visit: Twitter.com/Jakebrownbooks