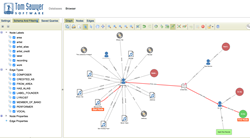 We are pleased to provide [the first end-to-end graph database browser] support for Amazon Neptune at Preview. A new, fully-managed [AWS] graph database service will be a compelling and powerful onramp for industrial grade graph visualization and analysis applications in the cloud… – Brendan Madden
BERKELEY, Calif. (PRWEB) November 29, 2017
Tom Sawyer Software, a global leader in graph and data visualization and analysis technology, announced support for the newest Amazon Web Services (AWS) managed database service, Amazon Neptune at re:Invent. Through the AWS Partner Network (APN), customers can select Tom Sawyer Perspectives graph and data visualization and analysis technology as a fully integrated solution offering that works with Amazon Neptune.
Tom Sawyer Perspectives Graph Database Browser is the first and only end-to-end graph visualization application that imports data directly from Amazon Simple Storage (Amazon S3) onto Amazon Neptune. It enables customers to immediately browse and visualize connections, social networks, shortest path, and many other graph analytics. The new Graph Database Browser executes native Amazon Neptune load commands, removing the need for command line tools.
Without writing any code, data scientists, architects, business analysts, and developers can use the Graph Database Browser to truly see what's in their data and customize the look and feel for applications including Social Networking and Knowledge Graphs. Customers such as Airbus, Cisco, NASA, the US Department of Justice, HP, Toyota and others also use Tom Sawyer Perspectives to design, build and deploy a wide variety of enterprise and government applications for Network Topology and IT Operations, Fraud Investigations, Life Sciences, and Model-Based Engineering.
"As a recognized leader in graph and data visualization and analysis software for twenty-five years, we've been helping enterprises and government agencies around the world build graph applications and gain competitive advantage," said Brendan Madden, Chief Executive of Tom Sawyer Software. "We are pleased to provide support for Amazon Neptune at Preview. A new, fully-managed graph database service will be a compelling and powerful onramp for industrial grade graph visualization and analysis applications in the cloud, offering fully managed cloud services to help customers optimize infrastructure costs, performance and business results."
Forrester recently reported that 51% of global data and analytics technology decision makers either are implementing, have already implemented, or are upgrading their graph databases.* The rising demand for cloud-based graph database services and the introduction of Amazon Neptune are strong indicators of the continued growth potential of this market.
HANDS-ON AWS LAB ON WEDNESDAY, NOVEMBER 29, AT 12:15 P.M.
Customers attending AWS re:Invent 2017 can test drive Tom Sawyer Perspectives integrated with Amazon Neptune at the AWS hands-on workshop. Our graph visualization and analysis experts will be on hand to show the full power of the technology, meet attendees and answer questions.
Availability: The Tom Sawyer Perspectives Graph Database Browser is in Preview at AWS re:Invent 2017 and will be made available on the AWS Marketplace in the first half of 2018. For on premise deployments before then, please contact us to discuss your application needs.
UNIQUE BENEFITS OF THE TOM SAWYER PERSPECTIVES GRAPH DATABASE BROWSER
Our Graph Database Browser extends customer benefits well beyond the capabilities of a typical database browser.

Easy Data Loading: Users can load data onto Amazon Neptune from a variety of enterprise sources, including end-to-end integration with Amazon Simple Storage Service (Amazon S3), without writing any code.
Data-Driven Intelligence: The application automatically detects and displays labeled data types and their properties so users understand what type of data is in the database. Data Scientists find this extremely useful to rapidly understand what's in the data set.
Query and Data Validation: Users can easily run queries with popular languages like Gremlin and SPARQL to confirm they are getting the results they expect from the database. For example, a query to find all nodes with type=router and status=down returns a clear, readable network graph drawing the user can interactively browse. Users can select nodes and run queries with a simple click to retrieve and display neighboring entities and validate the data.
COMPLIMENTARY ADVANTAGES OF TWO INDUSTRY LEADERS

Amazon Neptune is a fully-managed fast, reliable graph database service that makes it easy to build and run applications that work with highly connected data sets. Tom Sawyer Perspectives is a fully-loaded fast, reliable graph visualization and analysis service that makes it easy to build and run applications to work with highly connected data sets.
Amazon Neptune is a purpose-built, high-performance graph database optimized for processing graph queries, and Tom Sawyer Perspectives is a purpose-built, high-performance visualization and analysis platform optimized for graph data.
Customer choice – Amazon Neptune supports leading graph query languages including the open source Apache TinkerPop™ Gremlin and the W3C standard SPARQL 1.1. Tom Sawyer Perspectives supports these standards and many data integration endpoints commonly found across enterprises and government agencies. Federating data across endpoints is very important for customers with complex enterprise environments.
You can also continue the conversation by following us on Twitter, LinkedIn, and Facebook.
*Forrester Vendor Landscape: Graph Databases, "Leverage Graph Databases To Succeed With Connected Data", October 6, 2017, by Noel Yuhanna with Gene Leganza, Jun Lee