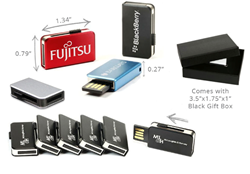 Sunrise Hitek has gifting covered with a wide variety of fully customizable gifts, perfect for the individual, or corporate gifting.
CHICAGO (PRWEB) November 29, 2017
The holidays are a really busy time, and an important time for businesses to show their customers their appreciation. Corporate gifts can be overwhelming for both the giver and receiver. Sunrise Hitek has it covered with a wide variety of fully customizable gifts, perfect for the individual, or corporate gifting.
One of the best gifts to give is one that will be used frequently. Sunrise Hitek's personalizable Power Bank Q10 & Q20 Dual USB Battery Pack are just one of those gifts! They use a proven lithium polymer battery chemistry with sophisticated charging circuitry allowing both dual output and dual input as well as safe turn-off if overloaded. The Q10 and Q20 power banks have a high build quality with an anodized aluminum enclosure and are available in 3 colors.
Another great useful item is the Custom Branded USB Drive. This is an extremely portable USB flash drive with silver or black metal case; full color logo printing and comes with black gift box. It would make a great client gift as well as a trade shows and conference giveaway.
What better way to celebrate the approach of a New Year than with Custom Calendars? With Sunrise Hitek's super fast production times, it isn't too late to place an order. Sunrise's easy 3 step ordering process makes ordering custom calendars hassle free. Full color printing with standard turnaround of 7 days from design to ship. Minimum order quantity is 200.
Another fun and memorable gift is a Mouse Pad. Sunrise Hitek's sponge rubber mouse pads offer super gripping power and a smooth rolling surface. High-resolution, full color graphics show off a company logo or message clearly. Sunrise employs direct UV printing ink which never fades, chips, or runs when wet.
About Sunrise Hitek Group, LLC.
Sunrise Hitek was established in 1988 and employs the most advanced equipment and technology, such as G7-certified HP Indigo and UV flatbed presses, laser engraving, and digital die-cutting, to create best-in-class color printing, short-run packaging, P.O.P. retail displays, and signage products. A privately-owned enterprise, the company is based in Chicago and sells products worldwide.