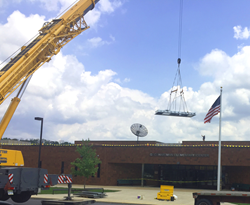 "I highly recommend, without hesitation, employing the McClure Company for such projects." - Paul R. Caputo, Superintendent
CATAWISSA, Pa. (PRWEB) November 29, 2017
For the current best value construction project, McClure Company provided an energy saving, safety focused and capital upgrade solution for the District. At the Elementary School, the District received a brand new HVAC system, a new entrance vestibule, an addition to the gymnasium and a secure administration office entrance. At the High School, a new LED lighting solution was installed in the auditorium and stage, as well as select air-conditioning upgrades. The Elementary, Middle and High school buildings received select double pane window upgrades, to replace existing single pane windows, and the stadium received new LED lighting.
Similar to the first phase, the projected cost savings will be contractually guaranteed by McClure Company over the contract term.
The current energy project had numerous benefits for Southern Columbia School District. In addition to guaranteed cost savings, the District upgraded the mechanical equipment, which will result in lower overall maintenance costs and improve equipment efficiency. The new LED lighting upgrade will result in increased lighting levels and the window upgrades improved the indoor comfort of students, teachers and District staff.
Southern Columbia's School District's commitment to energy efficiency has resulted in lower energy costs and increased saving of valuable tax-payer money.
About McClure Company
Since 1953, McClure Company has been delivering unparalleled facility and infrastructure renewal programs to county governments and school districts. Our programs are specifically designed to implement needed facility improvements with no financial impact to the taxpayers. Unlike traditional public construction procurement methods, the risks associated with costs, schedules and estimated savings are shifted from public entities to McClure Company. The results are contractually guaranteed. To learn more, visit their website at http://www.mcclureco.com.