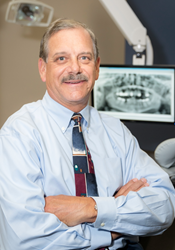 HICKORY, N.C. (PRWEB) November 28, 2017
Renowned dentist in Hickory, NC, Dr. Dale Spencer, was recently selected as an Honored Fellow of the American Academy of Implant Dentistry (AAID) for his notable work in implant dentistry. Dr. Spencer is a Diplomate of the American Board of Oral Implantology/Implant Dentistry and has received advanced training in placing dental implants.
Dr. Spencer was selected to receive the Honored Fellow award at the 66th AAID Annual Conference in San Diego, CA. The AAID hosted over 1600 implant dental professionals from around the world for the four-day conference, during which six AAID members—including Dr. Spencer—were named Honored Fellows. This award is based off rigorous requirements as established by the organization, and successful candidates are given the Fellow certificate, medallion, and credentialing from one of the most prestigious dental organization in the country.
Each year, the AAID recognizes dental professionals who distinguish themselves within the specialty of implant dentistry through their professional, clinical, and/or academic endeavors. Fellow Membership candidates are selected based on their knowledge and expertise in both placement and restoration of dental implants, completion of at least 400 hours of continuing education relating to implant dentistry, and other requirements, including passing a written and oral or case examination.
Dr. Spencer has devoted his career to providing exceptional dental care to his patients. This has led him to acquire some of the most advanced dental technology available, including CEREC® same-day dental crowns, the cone bean 3D CT scanner, and a Sirolese laser for minimally invasive periodontal treatment. He also regularly completes over 30 hours of continuing education each year to stay informed on the latest techniques and procedures to bring his patients the most quality and predictable care.
Dr. Spencer and his colleague Dr. Nick Wentworth are accepting new patients for dental implants, general dentistry, cosmetic dentistry, and sedation treatment. Patients searching for a dentist in Hickory, NC, are encouraged to call Hickory Dental Care at 828-270-7853 to schedule an appointment.
About the Practice
Hickory Dental Care offers modern, comprehensive dental care to patients in Hickory, NC, including general dentistry, dental implants, sedation treatment and cosmetic dentistry. Dr. Dale Spencer is a graduate of the University of North Carolina at Chapel Hill, a Fellow of the American Academy of Implant Dentistry and a Diplomate of the American Board of Oral Implantology/Implant Dentistry. Dr. Spencer is experienced in implant dentistry and is certified to administer IV sedation. Dr. Nick Wentworth graduated from the University of New England. He and Dr. Spencer are trained in the latest dental technology to offer comprehensive, comfortable, and predicable treatments for patients. The Hickory Dental Care team is dedicated to providing exceptional care for their patients and strive to create an office environment that is welcoming, compassionate, and of the highest quality. To learn more about Drs. Spencer and Wentworth and the services they offer, call 828-270-7853 or visit http://www.hickorydental.com to schedule a consultation.