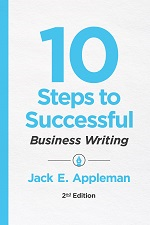 Poor writing costs corporate America billions of dollars a year, but it doesn't have to be that way.
ALEXANDRIA, Va. (PRWEB) November 28, 2017
Bad writing stifles careers and organizational performance. To help working professionals meet the growing demand to write mobile-friendly emails, engaging social media posts, and other concise and compelling documents, ATD Press has released the second edition of "10 Steps to Successful Business Writing" by Jack Appleman. It comes a decade after the highly successful first edition, one of the publisher's all-time best sellers.
"Poor writing costs corporate America billions of dollars a year, but it doesn't have to be that way," says Appleman. "Business writing—whether it's internal emails, new business proposals, LinkedIn profiles, or other text—is a learned skill, which everyone can improve by following simple steps." The second edition features new sections on enhancing email efficiency, mastering social media copy, and driving organizational success with better writing.
"10 Steps to Successful Business Writing, 2nd Edition" offers a practical, easy-to-follow guide for skills such as brevity, organization, persuasion, tone, grammar, and editing. The book is receiving high praise from business leaders around the world. You can read a sample chapter.
About the Author
Jack E. Appleman is passionate about effective business writing. With 25 years of experience as a corporate writing instructor, communication professional, and professor, he has helped thousands of individuals get better results with their writing. His articles have been published in Training Industry and PR Tactics, among others. Appleman has also been quoted in two Wall Street Journal stories on workplace grammar and email strategies.
In 2015, Appleman received the Charles T. Morgan Award for lifetime excellence in training from ATD's Northern New Jersey chapter, for which he served as president. He earned his accreditation in public relations (APR) certification from the Public Relations Society of America and his Certified Business Communicator (CBC) designation from the Business Marketing Association.
In addition to his corporate writing workshops and coaching, Appleman is a professor of writing at Southern New Hampshire University.
About the Publisher
ATD Press is the publishing arm of the Association for Talent Development (ATD). ATD is the world's largest professional membership organization supporting those who develop the knowledge and skills of employees, improve performance, and help to achieve results for the organizations they serve. Originally established in 1943, the association was previously known as the American Society for Training & Development (ASTD).