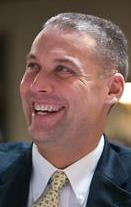 It has always been the goal of our association – and our priority – to keep independent agents independent.
Rolling Meadows, IL (PRWEB) November 29, 2017
Easley is currently serving as chairman of ARM International and has held the positions of secretary and board member with ARM of Indiana. A former treasurer and board member with Big I of Indiana, Easley is a 25-year veteran of the insurance industry, having served as agent for the RMD/Patti Insurance Agency in Richmond, Indiana since 1992. RMD/Patti Agency was a co-founding ARM of Indiana agency in 1969.
A member of ARM since 1999, he has set his goals for his tenure as president. They include: deepening and strengthening relationships with all insurance company partners; establishing a grassroots, pro-business advocacy supporting local, state, and national legislators, and; supporting independent insurance agents and agencies in Indiana.
Easley is also considering implementing a number of long-term initiatives that will help establish the Big I of Indiana as a go-to resource for members, insurance company partners, legislators, and regulators. "I would challenge each of us over the next year to put service before self," says Easley. "I feel that it is imperative for all of us to give back to our industry wherever and whenever possible."
One challenge Easley intends to face directly is how the industry is changing. His goal is to help member agents embrace the opportunities that arise within a changing industry, and to provide the resources needed to capitalize on those opportunities.
"It has always been the goal of our association – and our priority – to keep independent agents independent. As president, I intend to work hard for our association to ensure that we continue to meet this goal and help our member agents compete in a highly competitive marketplace."
A graduate of Earlham College with a BA in Business Management, Easley is eager to encourage the advancement of the independent agent. "It is indeed an honor to be named President of the Indiana Big "I" and I truly look forward to the challenges as well as the opportunities of leading our association in 2018."
About ARM:
ARM is the nation's foremost independent agency network, representing over 200 independent member organizations, 22 states, and $4 billion annually in premium volume. For more information on ARM, go to: http://www.armiweb.com Strong as Many. Powerful as One.