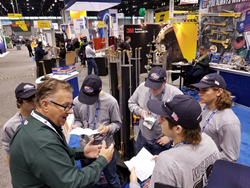 Quality Tools That Go To Work With You®
CHICAGO (PRWEB) November 30, 2017
The Trigger Torch was showcased by Uniweld at Fabtech, which is North America's largest metal forming, fabricating, welding and finishing event which was held November 6-9, 2017 in Chicago, IL. The U.S.A. manufactured Trigger Torch combines the latest and safest tip-mix technology, with a lightweight gas-flow design and high powered cutting capacity. The 13" 45 oz. 30ATT-13 caught the attention of many visitors given it's compact size. The easy to flip off back-trip feature for trigger release significantly reduces fatigue. The low profile trigger enables the torch to be pulled backwards out of containment with minimum snap possibilities. The Trigger Torch provides the additional feature of a forged trigger which is durable and designed to last.
In addition to welding professionals visiting Uniweld, Cole Kelham was one of several students to visit as well. There is much to be learned for a novice at the Fabtech exhibition and in addition to picking up pointers that will be useful in his trade, Cole expressed, "My Mom always told me I should be in a magazine." With this goal achieved, all at Uniweld wish Cole much success with his objectives and career aspirations in the welding industry. Many of the students whom visited the booth were greeted by Ray Blew, Vice-President Sales Welding Division whom took the time to review with them some of the basic principles and applications in the industry.
In addition to the vast display of gas apparatus equipment which Uniweld had on display, this year's edition of Fabtech added fun and games to the Uniweld booth. Visitors were invited to play Corn Hole and were eligible to win a variety of prizes ranging from tip cleaners, torches and hats, to the grand prize cutting and welding outfit KM350 won by Dakota Donaldson of Wichita, KS.
Uniweld Products, Inc. has manufactured quality welding and cutting equipment at its factory located in Fort Lauderdale, Florida U.S.A. since 1949. Refrigeration manifolds & hoses, vacuum pumps, tubing tools, nitrogen kits, cutting torches, welding handles, cutting attachments, pressure regulators, pressure gauges, cutting tips and welding tips are among the products manufactured at Uniweld's factory in Fort Lauderdale. Uniweld... "Quality Tools That Go To Work With You®."