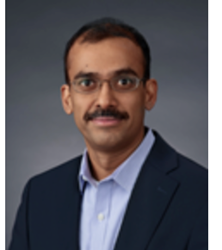 Proven track record of improving patient experience and clinical quality
GRAND RAPIDS, Mich. (PRWEB) November 28, 2017
Great Lakes Management Services Organization (MSO) is pleased to announce the appointment of Surya Desiraju as Chief Operating Officer. Mr. Desiraju brings over 20 years of operational leadership and process improvement experience to his new role at Great Lakes MSO. Most recently, he served as SVP at Adeptus Health, the largest operator of freestanding emergency rooms in the United States, where he was responsible for 103 locations and over $500 million in revenue across four states.
"Surya's proven track record of partnering with physicians to improve patient experience and clinical quality, in conjunction with rapidly growing an organization, makes him an inestimable addition to our team," said Bill Hughson, CEO of Great Lakes MSO. "For four consecutive years, the efforts he led were awarded the Guardian of Excellence Award by Press Ganey for achieving patient satisfaction scores in the top one-percentile across all emergency rooms in the nation."
Prior to joining Adeptus Health, Mr. Desiraju served as Regional Operations Director at DaVita for one of their fastest growing regions in the country, managing 22 dialysis facilities in the Dallas/Fort Worth area. His experience also includes operational and strategic leadership in the automotive industry (Ford Motor Company, TRW) and the high-tech industry (Texas Instruments). Mr. Desiraju received his MBA from McCombs School of Business at the University of Texas at Austin and his MS in Industrial Engineering from Wayne State University.
About Great Lakes Management Services Organization
Sterling Partners formed Great Lakes Management Services Organization (MSO) in February 2017 as a practice management services organization. Grand Rapids Ophthalmology partnered with the MSO to pursue growth opportunities, evolve clinical capabilities to better serve its patients, and to form strategic partnerships within industries related to eye care. If you are interested in learning more about a partnership with Great Lakes MSO, contact Dan Hosler at dhosler(at)seeitclear(dot)com.
About Grand Rapids Ophthalmology
Founded in 1982, Grand Rapids Ophthalmology (GRO) is the largest fully-integrated eye care medical group in West Michigan. It offers a full suite of eye care services from routine eye exams, contact lenses and glasses, to the most advanced medical and surgical treatments such as LASIK, cataract, cornea, retina, glaucoma, oculoplastics, pediatric, and both cosmetic and reconstructive eyelid surgery. GRO employs the largest number of eye care specialists and professionals in the region: 11 ophthalmologists, 19 optometrists, and 40 certified opticians; with a total of 400 employees at 12 locations. For more information, visit: http://www.seeitclear.com.
About Sterling Partners
Sterling Partners is a private equity firm with a distinct point of view on how to build great companies. Founded in 1983 and having invested billions of dollars, Sterling is guided by its stated purpose, INSPIRED GROWTH®, which describes Sterling's approach to investing in differentiated businesses and growing them in inspired ways. Sterling provides valuable support to the management teams of the companies in which the firm invests through a deep and dedicated team of professionals, including a strong network of outside directors and advisors. The people at Sterling believe in ideas and ideals, in people and in partnerships that drive long-term success. For more information, visit: http://www.sterlingpartners.com.