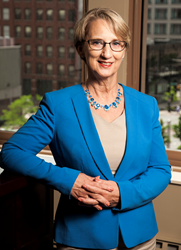 Mablene Krueger has a deep understanding of and commitment to our mission. -Gloria Nemerowicz, president, Yes We Must Coalition
CHICAGO (PRWEB) December 01, 2017
Robert Morris University Illinois and the Yes We Must Coalition (YWMC) are pleased to announce that RMU President Mablene Krueger has been elected to a three-year term on the Coalition's Board of Directors.
Yes We Must is a national organization that advocates for low-income/first generation students, providing a strong voice on their behalf. It strives to increase degree attainment among these students by promoting the work of small, independent, not for profit colleges and universities who are committed to this purpose.
The mission of Robert Morris University Illinois is to provide higher education opportunities for all students with the desire for self-improvement through a college degree. Recognized as the most diverse university in the Midwest, RMU serves students in Chicago and throughout the state at nine campuses in Illinois.
After several years of involvement with the Coalition, President Krueger is joining the board at a critical time as Yes We Must has just received two major grants from the National Science Foundation and the Gates Foundation. It is currently involved in projects that include cross-institutional online college courses, a student exchange program which invites students to take semester or summer courses at member institutions, and a Faculty Exchange Program.
"We are delighted that Mablene Krueger has agreed to serve as a Director for the Yes We Must Coalition," said Gloria Nemerowicz, president. "With a history of involvement that goes back to the early years of the Coalition, Mablene has a deep understanding of and commitment to our mission. Both RMU and YWMC promote collaboration among members toward a common goal of increasing college completion for students from low-income backgrounds. We look forward to her guidance and leadership during the years ahead."
"I look upon the prospect of serving on the board of Yes We Must as a perfect combination for RMU and the Coalition," said President Krueger. "I have always recognized that our goals, mission and objectives couldn't be in closer sync. I'm excited to work on upcoming projects with representatives from other institutions who can provide new and different perspectives to our ongoing efforts."
Robert Morris University Illinois is a not-for-profit, accredited baccalaureate and graduate degree granting institution, serving students interested in getting an education in business, graphic arts, nursing and health care, culinary and computer studies at its main campus in Chicago, as well as at locations in Arlington Heights, DuPage, Elgin, Orland Park, Springfield, Peoria, Schaumburg and Lake County. For more information, call 800-762-5960 or visit the web site at http://www.robertmorris.edu