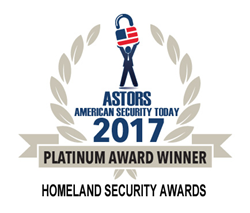 LISLE, Ill. (PRWEB) November 28, 2017
Metrasens, a world leader in advanced magnetic detection technology, has been recognized with the highest honors in the ASTORS Homeland Security Awards for its Proscreen 500™ solution. American Security Today presented the award at the ISC East conference in New York, recognizing organizations that are providing innovative solutions to address evolving homeland security threats.
"We are honored to be recognized with the best cell phone detection solution in the industry", said Dr. Simon Goodyear, Metrasens Chief Executive Officer. "The threat of unauthorized physical access to highly secure and confidential data remains high. At the same time, data recording devices are evolving in attempt to circumvent current security measures. Our answer in Proscreen 500 allows for advanced technology to address these threats much better than other conventional offerings."
Proscreen 500 is an innovative technology that not only provides security against the introduction of cell phones, but also other recording devices that pose a threat. It has been designed specifically for use in SCIF, SAPF and other secure facilities for the protection of sensitive data. Proscreen 500 features ferromagnetic detection (FMDS) technology to produce precise, sensitive and reliable detection capabilities. It is also network-ready for integration into existing access control and video surveillance systems.
For more information about Proscreen 500, please visit http://www.metrasens.com/proscreen-500/.
About Metrasens
Founded in 2005, Metrasens develops advanced magnetic technology built on the belief that we can make the world a safer place. Our products are carefully designed to address deficiencies in conventional security practices. Metrasens provides industry leading expertise in the field of magnetics for use in MRI safety, corrections security, and other security applications. Metrasens operates its technology and manufacturing centre in the UK, along with a North American sales and customer service hub in Chicago, and a global network of distribution partnerships. For more information, visit http://www.metrasens.com.