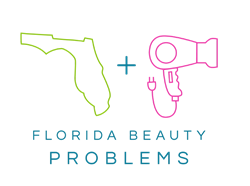 We love helping our Sunshine State sisters discover the best beauty products and spas while finding the most inspiring pros and pundits...in every Florida city, one post at a time.
NAPLES, Fla. (PRWEB) December 05, 2017
Florida Beauty Problems is a new beauty + wellness blog for women residing in - and traveling to - Florida. Smart, newsy and uber-researched content is hyper-focused on Sunshine State beauty services and solutions for solving sun and weather-induced beauty, health and fashion issues — think heat, humidity, horrifying-winged pests — for a reader's skin, hair and body. Relying on Florida's top pundits and pros as sources, recent posts include a shelfie profile of Miami entrepreneur Renée Frigo Graeff, TRUHair's Chelsea Scott, in Clearwater, Naples wellness doctor Linell King, M.D., Art Basel Miami's Beauty Best Bets and The University of Florida's top mosquito expert.
Florida Beauty Problems' content chief is Dana Wood, contributor to the Wall Street Journal's "Off Duty" pages and the New York Post's "Alexa" luxury magazine. Following her college days at New York City's prestigious Fashion Institute of Technology, Dana held executive beauty director editorial positions at Brides, W and Cookie magazines. Publicist Diana Biederman is publisher and co-contributor. They met in 1993 when one of Diana's plastic surgeon PR clients was doing the first chemical peels; Dana's resulting story in W launched this youthifying treatment for women worldwide. After residing in NYC for nearly 25 years before moving to Florida within a year of each other, Dana now calls St. Petersburg home and Diana resides in Naples.
The concept for Florida Beauty Problems surfaced during a long-overdue ladies lunch in Sarasota, with both bemoaning how Florida's sizzling heat and sopping humidity were, after just a few months, taking quite the toll on their polished city-girl looks. In NYC, they had access to top beauty pros at a moment's notice. But it's not just that: the wimpy skin, hair and makeup products in their beauty arsenals were no match for the challenges facing Florida's females. They also needed a "replacement squad" of beauty pros to keep them looking good, and new super-strength products too.
Since launching in 2017, Florida Beauty Problems has amassed thousands of loyal readers looking for expert advice and insider-y information on Florida's best beauty service providers and effective products at all price levels that make looking pretty in Florida a frequent challenge. As Diana notes, "We love helping our Sunshine State sisters discover the best beauty tips and treatments while finding the most inspiring pros and pundits...in every Florida city, one post at a time."