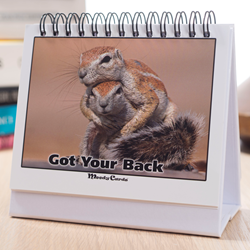 VANCOUVER, Canada (PRWEB) November 29, 2017
WebGage Commerce Inc. has just released a new version of their popular office gifts 'MoodyCards.'
While the original Moodycards focused on providing humor to the office place, the new version entitled 'MoodyCare', took a different form entirely.
"They were designed with one sole purpose," said Marty Gagnon, creator of MoodyCards. "To spread a little love in the world."
The latest release featured hand-selected, uplifting wildlife pictures with accompanying messages, intended to be gifts for loved ones.
Mr. Gagnon credits the current global climate for his newest product.
"I was watching CNN and feeling sick," he recounted with a laugh. "I mean, it's just insane these days. Every bit of news you hear is depressing. For some reason, the planet feels like it's going nuts right now. There is a very high level of hate, anger and negativity. You just feel gross every time you watch the news."
Mr. Gagnon felt that channeling his feelings into the creation of the MoodyCare product was the best thing he could do to combat his state of misery after watching the news.
"I turned off CNN and created the cards within the hour. I had absolutely no prior plans on doing so…the idea hit me right there and then. Seriously, I credit CNN for creating these beautiful cards!"
Mr. Gagnon hopes that the cards will connect with a wide audience this holiday season.
"If you love or care for someone, give them these cards. They are truly stunning and guaranteed to make the recipient smile. It's a great gift. Spread the love, the world needs it!"
Moodycards are well known for their unique and often spectacular animal images, and the latest version follows suit with over 20 different animals, from chimpanzees, penguins, giraffes to Koala bears.
"It's all about the [pictures]," Mr. Gagnon said. "People want them because the pictures are either adorable, hilarious or just plain incredible. It's amazing how a picture of two monkeys hugging can resonate with us humans. We instantly connect with it."
Moodycards are currently sold exclusively on Amazon.com.
For more information, contact
MoodyCards c/o WebGage Commerce Inc.
748 - 916 West Broadway
Vancouver, BC, Canada,
V5Z 1K7,
604-345-4247.
http://www.moodycard.com.
About Moodycards
In 2011, a natural born prankster, Marty Gagnon, funnelled his brand of humour through the creation of Moodycards. The mission was simple; make people laugh at the office. Moodycards now offer 5 different versions of their product line and continue to be one of the top selling office gifts on Amazon.com.