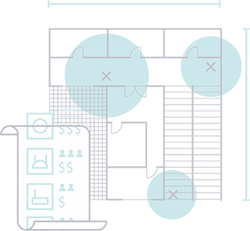 It's the Tripadvisor of WiFi access points!
MILAN, Italy (PRWEB) November 29, 2017
Tanaza is an Italian start-up operating in the wireless networking industry. The company enables the cloud management of thousands of routers globally and thus far, has hundreds of partner MSPs in more than 130 countries.
As a result of its experience with countless clients, the company identified a lack of tools in the Wi-Fi market to guide customers when purchasing wireless devices. For example, most e-commerce platforms and electronic stores do not allow clients to compare datasheets and technical specifications of the devices.
Also, vendors do not use standardized templates to write their datasheets and consequently clients struggle to find a suitable device for their Wi-Fi projects.
Conversily, Tanaza's "Access Point Selector" allows clients to compare hardware devices in a clear, transparent and objective way. This new tool, run by Tanaza's algorithm, calculates clients' needs in terms of bandwidth per user, bandwidth per location, and number of devices, considering different usage profiles. An extensive set of filters increases the precision of the selector: network administrators can select indoor and/or outdoor devices, mounting instructions, with or without LAN port, and more.
"Clients have defined this tool as the Tripadvisor of Wi-Fi access points," declares Sebastiano Bertani, Tanaza's CEO. "The selector finds the best devices for any deployment, whether it's a café with one device or an airport with numerous devices," declares Massimo Dragoni, Tanaza's Customer Success Manager.
The new tool can be accessed at https://success.tanaza.com/s/access-point-selector
About Tanaza
Tanaza is an Italian start-up offering a cloud-based software to manage multivendor Wi-Fi networks and social hotspots. Tanaza was founded in 2010 and, with its Wi-Fi software, it serves hundreds of partners and millions of WiFi users in more than 130 countries.