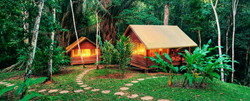 In Belize, with a wealth of stunning natural attractions and near-perfect weather year round, Glamping makes a lot of sense
SAN IGNACIO, Belize (PRWEB) November 30, 2017
Glamping is here to stay, especially in warm weather destinations like Belize, and The Lodge at Chaa Creek is responding to this growing trend with vacation options that take rustic accommodations and amenities to a new level, according to the popular Belizean eco-resort's general manager.
"'Glamping' has as many definitions as there are places that offer it, but there's no doubt that enjoying luxury in the great outdoors is becoming increasingly popular," Bryony Fleming Bradley said.
With the back to nature feel, but none of the inconveniences of camping, and many of the comforts people look for in resorts, Glamping can offer the best of both worlds, she added.
"Being in a comfortable bed surrounded by nature, yet with access to an excellent restaurant and lounge, infinity pool, spa, Wi-Fi connectivity and the conveniences and pampering that make vacations so enjoyable, Glamping is the perfect choice for many families, couples, groups and individuals looking to do something different," she explained.
Ms Bradley said many travellers looking to get closer to nature and save on accommodations while still enjoying a high degree of luxury and service are finding Chaa Creek's Macal River Camp to be an ideal vacation choice.
"In a country like Belize, with a wealth of stunning natural attractions and near-perfect weather year round, Glamping makes a lot of sense for many people. And here at Chaa Creek, with access to the amenities and activities our 400-acre private nature reserve supports, we like to think we're taking the concept to a whole new level," she added.
Described by the Oxford Dictionary as, "A form of camping involving accommodation and facilities more luxurious than those associated with traditional camping," Glamping began life as a portmanteau combining "Glamorous" and "Camping", before spreading and evolving throughout the global travel industry.
"People who never considered camping before are now becoming attracted to this new way of getting closer to nature," Ms Bradley said.
"When we built the Macal River Camp years ago, it was designed to cater to people who wanted an authentic jungle experience without the hassle of setting up tents, sleeping on the ground and cooking over a fire. It was one more addition to our wide range of lodgings that became increasingly popular year by year.
"When we first heard the term 'Glamping' we saw an opportunity to expand the concept a bit, with the Macal River Camp already there as the first in a series of Glamping offerings."
The Macal River Camp consists of ten casitas; bungalow-style accommodations on raised platforms with private verandas and hammocks, comfortable beds with linens, pillows, blankets and towels, and clean, environmentally friendly bathrooms and showers nestled in a rainforest setting. A large common area consisting of a traditional thatched-roof palapa is used for dining, socialising, playing games and relaxing.
"Guests consistently praise the meals, which the same local family has been cooking for years now," Ms Bradley said.
The Macal River Camp has been featured in a variety of articles and blogs, including a feature in the popular travel site Oyster, with Kelsey Blodget writing that "The Macal River Camp might be one of the best deals in Central America...and one of the best parts of the experience might be listening to the chorus of howler monkeys and cicadas at night."
And an earlier Architectural Digest article, "14 Rustic-Luxe Lodges to Explore This Summer" noted that, "The Lodge at Chaa Creek is redefining the term glamping with over 35 years of experience in hospitality and luxe-treetop suites boasting panoramic views of the rainforest."
In addition to the jungle ambience, well-maintained trails and canoe landing, guests enjoy complete access to Chaa Creek's amenities and activities, including farm-to-table dining and fresh Caribbean seafood at the Mariposa Restaurant and Jungle Lounge, massages and professional treatments at the Hilltop Spa, a refreshing infinity pool, onsite Belize Natural History museum, butterfly farm, Maya organic farm and medicinal plant trail, and more.
Activities include canoeing and tubing along the Macal River, horseback riding, guided or self-guided birding and nature walks along miles of maintained jungle trails, river and jungle safaris, and an extensive menu of tours and expeditions, including cultural excursions to local villages.
Ms Bradley said that for those visitors looking for a more traditional or even luxurious vacation, Chaa Creek continues to offer a famously wide range of accommodations – from the signature thatched roofed, artistically appointed "Cottage Collection", as well as suites and villas that now include the luxurious Ix Chel Rainforest Villas. With floor-to-ceiling glass doors and walls overlooking a secluded rainforest setting and expansive verandas that feature private Jacuzzis, plunge pools, al fresco showers and dining, as well as the attention of a personal butler, the Ix Chel Villas have set a new standard for rainforest luxury in Belize, she said.
"They say you can't be all things to all people, but at Chaa Creek we certainly try to cast a wide net.
"And our approach to Glamping is evolving as well. We have plans on the drawing board that involve extreme comfort, exquisite dining and impeccable service in a jungle setting near an ancient Maya temple.
""That's all I can say for now, but we encourage people to stay tuned," Ms Bradley said.
The Lodge at Chaa Creek is a multi-award winning eco resort set within a 400-acre private nature reserve along the banks of the Macal River in Belize. It was recognised by National Geographic with first place honours at the 2017 World Legacy Awards held in Berlin.
ENDS