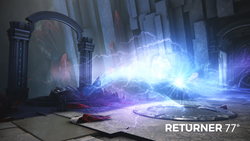 "... among the best and most surprising new games we have seen in the last few months."
Copenhagen, Denmark (PRWEB) November 29, 2017
The Apple editorial team describes it as being "among the best and most surprising new games they have seen in the last few months."
The game has already been said, by Cult of Mac "..to deliver one of the most eye-popping iOS game experiences of 2017..." and described as a "visually impressive Sci-Fi puzzler" by TouchArcade
Players can expect an epic story, addictive puzzles, astonishing visuals, and rich, dynamic audio.
Returner 77 takes place in a giant alien spaceship in the near future. Humanity is on the brink of extinction, and the player is one of the last survivors. The only way to save humankind will be to make your way down to Earth by solving compelling puzzles throughout the alien environment.
Returner 77 is now available for USD 3.99 on App Store for iPhone and iPad.
Learn more and download it here: https://itunes.apple.com/us/app/apple-store/id1214904254?mt=8