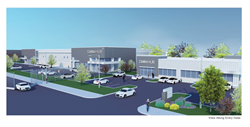 SACRAMENTO, California (PRWEB) November 28, 2017
Canna-Hub, a California-based real estate development and property management Company for the cannabis industry, today announced it is accepting lease commitments at its first-of-its-kind cannabis business community in City of Williams, California, offering cannabis business operators the ability to lease space in newly constructed multi-tenant facilities designed specifically for cannabis operations.
With up to 1.2 million-square-feet of space planned for construction in Williams, this Canna-Hub Business Community, or "cannabis hub," will be able to accommodate approximately one hundred cannabis licensees with local permitting fees that are among the lowest in the State. The Williams cannabis hub has already received local city zoning and authorization for indoor cultivation, greenhouses, nurseries, volatile and non-volatile manufacturing, tissue culture labs, third-party testing labs, distribution and transport.
"This is an extremely exciting time for cannabis licensees looking to participate in California's Green Rush. We have already completed the costly and time consuming process of finding suitable property and obtaining the necessary zoning that is required as part of California's new cannabis regulatory environment," said Canna-Hub Founder and CEO Tim McGraw, an experienced commercial real estate developer who has also designed or built cannabis specific facilities in several states and abroad, and has overseen cultivation, manufacturing, distribution and security of the largest cannabis operation in Illinois. "We can immediately provide qualified cannabis business operators with the permit documentation required as part of the state license application. This will expedite the licensing process and help get businesses operational as soon as possible."
In addition to cannabis operators, forward-thinking towns and cities like Williams are poised to benefit greatly, with significant revenue gains and local job opportunities in a safe and controllable manner. Williams City Administrator Frank Kennedy said, "The City of Williams is fortunate to have a City Council with the vision to approve a plan to welcome cannabis operators to our town in an organized and professional manner as was proposed by Canna-Hub. The local benefits with regards to jobs, improved infrastructure, and overall economic stimulus that will accompany a development of this size will be game changing for the citizens of Williams."
Canna-Hub's Williams, California site is one of several sites the Company has identified in strategically located cities across the State. Canna-Hub has also secured or is negotiating to acquire real estate and zoning approvals in several other strategic regions in California.
Canna-Hub CEO Tim McGraw recently joined DFZ Radio's Heavy T Grow Show to discuss the opportunities for sophisticated growers in California and how the Company can help them achieve compliance. Listen to the interview here.
For more information on securing space in Canna-Hub's Williams, California, cannabis hub, visit http://www.Canna-Hub.com or call 916-620-7999.
About Canna-Hub
CHH LLC (dba Canna-Hub) was formed in 2017 for the sole purpose of identifying, acquiring, and developing lower cost properties without cannabis zoning while simultaneously working closely with city government officials to effect zoning changes on the identified property. Canna-Hub plans to build the most sophisticated and valuable real estate portfolio in the cannabis industry. For details on Canna-Hub and location specifics, visit http://www.canna-hub.com.
Public Relations Contact:
Andrew Hard 
Chief Executive Officer 
CMW Media 
P. 888-829-0070 
andrew.hard@cmwmedia.com
Investor Relations Contact:
Jonathan Charak 
Chief Financial Officer, Canna-Hub 
P 312-735-1475 
jonathan@canna-hub.com
Sales and Leasing Contact:
Fernando Russo or Kimberly McGraw 
P 916.620.7999 
fernando@canna-hub.com or 
kim@canna-hub.com