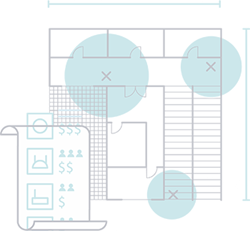 It's the Tripadvisor of WiFi routers!
(PRWEB) November 29, 2017
Consumers love Tripadvisor, Yelp and other websites which allow them to compare hotels, restaurants and shops before buying. The success of these companies depends on the valuable information they collect from businesses and users, which helps customers make well-informed decisions.
In the WiFi market, information is not as easily available. Yet.
In fact, all vendors write technical datasheets in different ways and comparing them is a nightmare for any user. Still, there is no place collecting all the information in the datasheets for an objective comparison.
Now, the time has come for the "Tripadvisor" of wireless routers, the "Access Point Selector" provided by the Italian company Tanaza. This free tool gathers information from multiple vendors and, thanks to its powerful algorithm, allows comparing technical specs and choosing the most suitable devices for any installation.
The tool includes categories to filter routers based on price, vendor type of usage, speed, number of devices that can connect, and much more.
The Access Point Selector is available at the following link: https://success.tanaza.com/s/access-point-selector