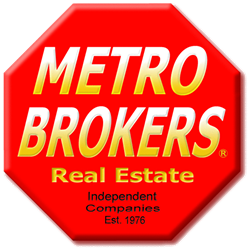 Our people need to be able to quickly and efficiently identify listing targets and optimize their time and money to reach and cultivate them, using a system they can trust. SmartTargeting is that system.
DENVER (PRWEB) November 28, 2017
Metro Brokers, Inc., Colorado's leader in real estate and services for more than 40 years, has partnered with SmartZip, the pioneer in predictive analytics and multi-channel marketing automation solutions for the real estate ecosystem. With this partnership, more than 850 brokers and agents at 42 independent offices will be equipped with powerful home seller analytics and targeted, turnkey marketing tools to tools to gain an edge in their market by accelerating their listing wins, building their online brand, and amplifying their recruiting efforts.
The partnership with Metro Brokers - one of the latest to include the complete SmartZip Enterprise Real Estate suite - was born out of the company's interest in Automated Valuation Models (AVMs). Metro Brokers' CEO, Millard H, "Rip" Ripley's desire to use AVMs to provide home value estimates as a way to generate home seller leads on his corporate website led him to SmartZip, whose analytics have been powering home values and other insights for leading consumer portals and products for several years, including ZipRealty.com, RealtyStore.com, foreclosure.com, Envestnet|Yodlee, and others.
While evaluating SmartZip's AVMs, Metro Brokers became enamored with SmartTargeting, the company's flagship predictive marketing platform. SmartTargeting leverages predictive seller analytics to automatically identify and nurture homeowners most likely to sell with personalized, broker- and/or agent-branded marketing messages through direct mail, online ads, Facebook ads email and more. In turn, the system gives brokers and agents a competitive advantage and maximizes their chances of winning listings in their local area and/or their own sphere of influence.
"SmartZip's leading-edge solutions help us offer highly differentiated tools to our brokers and agents," explained Ripley. "This is especially relevant under our unique franchisor model. Our brokers and agents are independents who license and leverage our brand, but retain their unique identities. This means we can't dictate which products they should use. So when it comes to technology solutions, our model challenges us to find a plug-and-play platform with families of products that can work in an integrated as well as a standalone format, so franchisees can choose what works best for them. SmartZip's suite of tools allows us to do just that."
"A three-year inventory low has made Colorado a seller's market, so a listing lead here is as good as gold," explained Ripley. "Our people need to be able to quickly and efficiently identify listing targets and optimize their time and money to reach and cultivate them, using a system they can trust. SmartTargeting is that system."
SmartTargeting readily meets the unique needs and skill levels of each agent. The more tech-savvy agents can draw upon its advanced features, while others can start small and grow with the system. SmartTargeting Basic, which helps agents generate repeat and referral business from their own sphere of influence database, has easy upgrade paths for agents to expand their sphere by adding custom territories or "farms" in their local area of choice. With proven accuracy, the system continuously processes data on homes, home owners and their neighborhoods to identify the homeowners most likely to sell. SmartTargeting's built-in and customizable marketing tools, consistently nurture such owners with precision-targeted online and offline messages that ensure the agent's brand stays top of mind, thus maximizing their chances of winning that listing.
SmartTargeting Enterprise also includes the integrated Reach150 tool set, which automatically requests testimonials from satisfied customers when transactions close. Agents are able to vet these testimonials before publishing them with one-click to their own personal, branded Reach150 reputation website, as well as across the web with highly targeted pay-as-you-go online ads. This strengthens their online reputation, boosts their SEO, and generates more referrals.
Reach150 will also help franchisees recruit new agents by aggregating testimonials from satisfied agents on their individual Reach150 recruiting websites. These testimonials are then turned into powerful online ads that are strategically and automatically targeted to the agents they aim to attract. Once recruited, Reach150 will rebrand the newly hired agent with his or her personal network. Metro Brokers has already witnessed the winning impact of this tool in a beta release for a select number of offices, receiving nearly 100 testimonials.
"When I came to Metro Brokers three years ago, the company was almost technology-phobic," said Ripley. "Our search for AVMs led us to SmartZip, but ultimately it was their complete package that sold us on the enterprise offering. SmartTargeting, Reach150, and the manner in which their organization understands our needs and works with us to fulfill them, solidified the fact we couldn't find a better solution."
"We are thrilled to be partnering with one of Colorado's most influential names in real estate," said Avi Gupta, CEO of SmartZip. "Our SmartZip Enterprise suite is the right solution at the right time for Metro Brokers, and we are committed to supporting them every step of the way, so they leverage the full power of SmartTargeting to get a leg-up in the fiercely competitive Colorado real estate market."