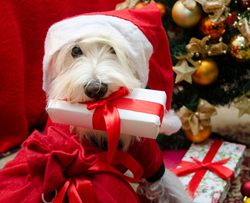 We think of our dogs as members of our families, and want to include them in holiday gift giving.
WILTON, Conn. (PRWEB) November 29, 2017
With more than 60 million American households now including at least one family dog, it's not surprising that gifts for dogs are appearing on more and more holiday lists.
"We think of our dogs as members of our families, so we want to include them in our holiday gift giving," said Renee Coughlin of pet care services provider Canine Company. "But there are so many choices it can be hard to find just the right gift.
"We asked our holiday shopping specialists to choose their top five gifts for dogs and dog lovers. With a wide range of prices, there's something here for every pet-loving family."
The Nite Dawg LED Pet Leash is the perfect gift for pet parents who want to walk their dogs at night. The leash lights up to make dog and walker visible, providing safety at night and during dusk and dawn hours, too. ($19.99)
Dogs – and their families -- love playing with the Squeaky Gem bouncy toy. Shaped like a diamond, it is made from non-toxic material, is dishwasher safe and even floats in water. Available in teal or pink. ($8.99)
Any dog will look stylish in the Up Country Snowman Leash & Matching Collar featuring durable blue nylon webbing and playful snowmen. This 6-foot leash and is made with solid cast brass to hold even the strongest dog. Stain and fray resistant, the set is designed to last a lifetime. ($34.99)
Got an aggressive chewer? The Harry Barker Cotton Rope Tug & Toss is one of the best chew toys available. It even helps keep teeth clean! Made from machine washable cotton with earth-friendly dyes that are pet safe. Available in two sizes in red or blue. ($9.99)
The Santa Scarf will make any dog look festive for the coming holidays – but it also keeps him warm! The simple loop closure makes it easy to put on and take off. Available in two sizes. ($5.99 for small, $6.99 for large.)
"Still not sure what to give? Consider a Canine Company Gift Card, which can be used in our Pet Shop online, or towards any of our pet care services," she adds. Available in $10, $25 and $50 denominations.
Canine Company provides at-home pet care products and services that help people keep their dogs and cats healthy, safe and happy, including Invisible Fence® pet containment systems, Manners dog obedience training, as well as mobile pet grooming and pet sitting services in select markets.