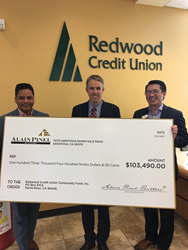 This donation is further evidence of the determination of our friends and neighbors to overcome these recent challenges
SARATOGA, Calif. (PRWEB) November 28, 2017
On Nov. 21, Alain Pinel Realtors (APR) presented a check totaling $103,490 to the Redwood Credit Union Community Fund in an effort to help those affected by the devastating North Bay fires. Launched on Oct. 13, APR's North Bay Fire Relief Fund collected more than $50K in donations in less than two weeks, an amount that was matched dollar-for-dollar by the brokerage.
"These past few months have been an extremely trying time for our friends and neighbors as the fires ravaged their homes and communities," said Mike Hulme, president of APR. "We wanted to do our part to help support the community, which has come together to pick up the pieces and recover from this tragedy. This donation is further evidence of the determination of our friends and neighbors to overcome these recent challenges."
For more information or to make a donation to the Redwood Credit Union Community Fund, please visit https://www.redwoodcu.org/northbayfirerelief.
In the attached photo: From left to right: John Ybarra (mortgage loan officer, Redwood Credit Union), Mike Hulme (president, Alain Pinel Realtors), and Reid Louie (assistant vice president, regional branch manager, Redwood Credit Union.)
About Alain Pinel Realtors®
Alain Pinel Realtors (APR) is the largest privately owned residential real estate company in Northern California and is consistently ranked among the top 10 largest residential real estate firms in the United States based on closed-sales volume. The firm has 1,400 agents in more than 30 offices throughout Northern California. APR was founded in 1990 by Chairman and CEO Paul L. Hulme, and is based in Saratoga, Calif. Visit us at apr.com, china.apr.com, facebook.com/AlainPinelRealtors, and @AlainPinel.