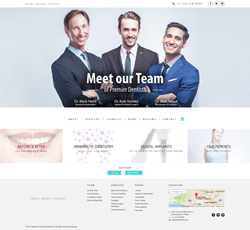 I post pictures and videos on social media to show examples of the quality of my work and also to educate patients on available high-quality treatment options, Dr. Nejad told the Aesthetic Channel.
Beverly Hills, CA (PRWEB) November 29, 2017
A November article in The Aesthetic Channel, a Modern Medicine Network publication, recently covered a trending topic on plastic surgeons and how they post on social media. The article, "The ethics of social media," addressed the importance of using respect, professionalism and discretion when posting content, videos and images of cosmetic procedures, which may include a certain surgery or before-and-after photos.
Both cosmetic dentist Matt Nejad, D.D.S and facial plastic and reconstructive surgeon Ben Talei, M.D. of Beverly Hills post information, images and videos of their work on their social media channels and their websites. However, both Dr. Nejad and Dr. Talei stress the need for tasteful posts that do not show disrespect or exploit the privacy of their patients in an effort to reap marketing gains.
The Aesthetic Channel's article featured Dr. Nejad and Dr. Talei for their support of following ethical guidelines when using social media in their practice. In the article, Dr. Nejad told the Aesthetic Channel, "I post them to show examples of the quality of my work and also to educate patients on available high-quality treatment options. I especially like to post videos and pictures of the veneer treatment process including planning, 3D-evaluation, fabrication of temporaries and final results achieved."
Dr. Ben Talei also contributed his insight to the article by commenting on how he uses his posts of plastic surgery images to give others a realistic view of certain surgical and non-surgical procedures that he offers, but always with careful consideration to the graphic nature of the videos and images as well as patient privacy. Violating patient confidentiality on social media is "unforgivable," according to Dr. Talei.
Both Dr. Nejad and Dr. Talei are highly respected in their field. They offer advanced, minimally-invasive treatment options to improve a patient's health, appearance and self-esteem. When it comes to social media, they uphold the commitment to honor the physician-patient relationship and respect patient privacy at all costs.
More About Dr. Matt Nejad and Dr. Ben Talei:
Dr. Matt Nejad is leading partner at Helm Nejad Stanley dental practice in Beverly Hills. He is renowned for his advanced biomimetic and cosmetic dentistry expertise. Dr. Nejad grew up in Calabasas, California and graduated from the prestigious University of Southern California School of Dentistry – world renowned for its advanced cosmetic and restorative training. During his tenure, Dr. Nejad was selected to work with dental pioneer, Dr. Pascal Magne. He was the youngest dentist to become a member of the USC faculty. Dr. Nejad also donates his time and skills to help domestic abuse survivors as a member of the Cosmetic and Reconstructive Support Medical Advisory Council of the National Coalition Against Domestic Violence (NCADV).
A native of California, Dr. Benjamin Talei graduated from the University of California, Los Angeles with a degree in Physiological Sciences. He received his medical degree at the University of California, San Diego School of Medicine. Dr. Talei then went on to complete his residency training in Head and Neck Surgery at Columbia University and Cornell University Medical Centers, New York Presbyterian Hospital. Following his residency program, Dr. Talei became one of the only surgeons in the country to complete two separate fellowships in Facial & Plastic and Reconstructive Surgery including a fellowship at the Vascular Birthmark Institute of New York. In addition, Dr. Talei is a respected author, speaker and humanitarian.
For additional information on Dr. Talei and the Beverly Hills Center for Plastic and Laser Surgery please visit http://www.beverlyhillscenter.com or call (310) 288-0641.
For additional information on Dr. Nejad and Helm NejadStanley Dentistry please visit https://www.beverlyhillsladentist.com or call (310) 278-0440.