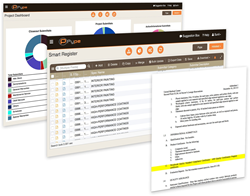 WASHINGTON, DC (PRWEB) November 29, 2017
Pype Inc. is proud to announce that it is now working with Okland Construction to help the leading contractor streamline their submittal register workflow.
Okland's commitment to innovation in the construction industry led the company to evaluate Pype's AutoSpecs product back in 2016. The AutoSpecs platform helped Okland's project teams to easily upload specs books and generate submittal logs in minutes.
Brad Wagner from Okland Construction says: "AutoSpecs has helped us standardize our submittal management process faster than we ever thought possible. The team at Pype truly demonstrates dedication to continuous improvement and providing enhanced value to both their clients and the construction industry as a whole."
Pype and Okland will work together towards their common goal of finding new ways to solve today's construction challenges. The two companies collaborate on ways to complete projects faster while maintaining the highest level of quality across a large range of commercial projects.
"We are excited about strengthening our relationship with the Okland team," said Sunil Dorairajan, Pype's CEO and co-Founder. "They understand the importance of leveraging innovative tech in order to drive efficiency and deliver strong outcomes."