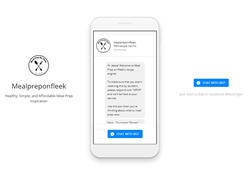 If this chatbot can eliminate mental energy and time in the decisions making process, we could save people a massive amount of time each year
LOS ANGELES (PRWEB) December 28, 2017
Meal Prep on Fleek has created its first chatbot in order to help people solve the problem, "What should I make for dinner?"
"We surveyed hundreds of people to see what their biggest challenges are around healthy eating and the feedback was staggering; time and variety are the top two obstacles people face when it comes to planning meals," stated Nick Quintero, co-founder of Meal Prep on Fleek.
Via this new chatbot, users can simply "chat" with an AI robot, which will pull from Meal Prep on Fleek's recipe database, and serve instant meal prep recipe recommendations that are easy to make, balanced, and, in most cases, under $4 per meal.
The MealPrepOnFleek.com team is approaching the chatbot space as an experiment.
"Serving our community and helping people achieve their wellness goals is the mission of our organization," Quintero said, "if this chatbot can reduce mental energy and time in the decision making process, we could save people a massive amount of time (and money) each year."
Users can add the Meal Prep on Fleek bot to their Facebook Messenger by sending a direct message to Meal Prep on Fleek on Facebook.