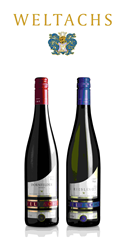 Finally a quality and affordable range of German Craft Wines.
Brooklyn, New York (PRWEB) November 30, 2017
Liquid Projects, LLC, NYC, brand agents of quality German wines and craft beers, announces the introduction of four wines from the Weltachs Winery of Grosskarlbach, Germany, in the United States effective immediately.
Weltachs' initial offering consists of a dry Riesling, a Late Harvest white cuvee (Gewuerztraminer-Pinot blanc), a 100% Portugieser Rosé, and a hearty, off-dry Dornfelder. All four wines feature fruit-forward flavors which are generally preferred by many American consumers.
Weltachs' Dornfelder and Rosé go well with grilled meats, pasta, pizza, burgers, ribs, and spicier preparations ranging from barbeque to Asian, Indian and Cajun cuisines. The Riesling and Late Harvest pair effectively with poultry, many fish and seafood creations calling for full-bodied flavor.
Appropriately, all four wines are excellent matches with turkey, duck, chicken, goose, and ham as well as other holiday traditional treats where full-flavored, "easy-drinking" wines are welcome. These four Weltachs wines have lower alcohol levels under 12% ABV which are in keeping with German wine tradition. All wines reveal supple flavors that permit diners to enjoy wine during the entire meal and afterwards.
Weltachs Kellerei is located in the Pfalz, Germany's warmest wine-growing appellation. For almost 100 years, this large, family-owned and operated winery has worked closely with some 400 small regional growers whose small acreage permits close, personal supervision of vines. Most Weltachs wines are consumed within Germany. However under the aegis of Weltachs' owner-vintner Dirk Maeurer, a large export program within Europe and increasingly Asia has evolved. With the rising demand for well-made German wines globally, Weltachs reorganized its structure and business plan 30 years ago. Since then, the Weltachs brand has become known world-wide. This first offering in the United States is Weltachs' initial presentation in America. http://www.Weltachs.de
Weltachs Wines are currently available in the greater New York City Metropolitan area through MHW Ltd, Manhasset, NY, with storage and shipping facilities at Western Carriers in North Bergen, New Jersey. Interbald Distributing in Gaithersbrug, MD offers Weltachs wines in Delaware, Maryland and Virginia.
Special Orders placed with the Pennsylvania Liquor Control Board will enable Pennsylvanians to enjoy Weltachs wines in the Keystone State.
To place wholesale orders in the Greater New York Metro Area, contact:
Fanny Cuevas, FCuevas(at)mhwltd.com (516) 869-9170 Ext. 202 (516) 869-9171 2220
or Lars Dahlhaus, Lars(at)LiquidProjects.us (646) 479-7269
or MHW Order Desk, Orders(at)mhwltd.com (516) 869-9170 (516) 869-9171
For orders in Delaware, Maryland, Washington, D.C. and C and Virginia:
contact, Konstantin Khizder, President(at)Interbaltproducts.com Interbalt Products Corp., 8548 Dakota Drive, Gaithersburg, MD 20877-4138, (301) 793-1818, Fax: (301) 869-2422, e-mail: info(at)interbaltproducts.com
Liquid Projects Seeks Additional Partners
Liquid Projects, LLC,Weltachs Wines National Brand Agents, is actively seeking new distribution opportunities and sales outlets in Maine, Vermont, New Hampshire, Massachusetts, Rhode Island and Connecticut. Likewise new outlets are being sought in Florida, Illinois, Colorado, California, Oregon and Washington.