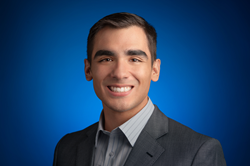 (PRWEB) November 29, 2017
VideoAmp, the software startup that is bringing digital video and linear TV advertising together and pioneering the world's first integrated TV operating system for advertising, today announced that it has hired Luis Manrique to be Vice President of Product.
Most recently a leader of Product and Commercialization for Google Programmatic Platforms, Manrique will bring his unique perspective on brand measurement, affinity for agency holding companies and expertise in machine learning to bear across VideoAmp's product portfolio while helping to mentor, inspire and aggressively grow the company's stellar Engineering and Data Science talent.
"There are plenty of people who have the standard 15+ years experience leading technical teams, but we knew we needed more. We all agreed that we needed the people's champion to come in here, strap up and get ready to go to the moon. After meeting Luis, we immediately knew he had what it takes to inspire a team, put people first and come up with real innovative solutions the industry deserves. I am looking forward to putting in work and collaborating with the legend," said Ross McCray, Co-Founder and CEO, VideoAmp.
"I am inspired by the potential of creative ideas and energized by the opportunity to develop and scale new products in emerging and rapidly transforming markets," said Manrique. "My strength is bringing a pragmatic and collaborative approach to solving difficult business and technology problems, and my passion is mentoring and growing world-class product and engineering teams. I am excited to bring these assets to VideoAmp and the incredibly talented technology team it has attracted to date."
VideoAmp has been 100 percent focused on solving the challenges of linear TV and digital video convergence since the business was founded in 2014. The company's singular focus and engineering first approach has been instrumental to its growth and a key differentiator in the marketplace. The primary drivers of VideoAmp's growth have been:

Using digital audiences (or "Advanced Currencies") to plan linear TV,
Using the same to allocate upfront linear TV units,
Programmatically buying media across linear TV/OTT/digital channels, and
Reporting on de-duplicated reach and frequency within a single fully self-serve interface.
As a result, VideoAmp is bringing efficiencies into an inefficient market through its integrated TV operating system and changing the way agency holding companies and content owners plan, buy, package and measure linear TV and digital video campaigns across screens. Over the last year, VideoAmp has structured strategic partnerships with Mediaocean, comScore, Nielsen, Comcast's FreeWheel, Publicis Groupe's Mediavest Spark, Omnicom Group, Horizon Media, LiveRamp, Neustar, SpotX, and Clypd among others.
ABOUT VIDEOAMP
VideoAmp is the world's first integrated TV operating system for the convergence of the linear TV and digital video advertising ecosystems. Our software and data solution enables advertisers to plan, buy, and measure the success of de-duplicated and precisely targeted campaigns that reach linear TV, VOD, OTT, and digital audiences. The linear suite allows for the first time the ability to use digital data for the planning and allocation of upfront TV commitments within existing workflows. This extends to scatter and cross screen initiatives, all within the VideoAmp fully self-serve operating system for buyers and sellers. VideoAmp is backed by Mediaocean, RTL Group and six other top venture capital firms. For more information, visit http://www.videoamp.com or follow us on Twitter, Facebook, and LinkedIn.