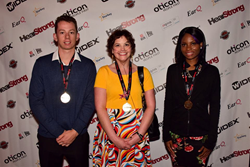 I think what makes me a HearStrong Champion is that I don't care that I have a hearing loss and wear hearing aids. It doesn't make me weird or different.
CHICAGO (PRWEB) November 29, 2017
On November 13, 2017, HearStrong held a special event at Studio Paris in Chicago, Illinois, honoring three people determined to change the face of hearing loss. Brett Selke, Emily Brown, and Vanessa Hunter have had varying experiences with hearing loss, but they share a common goal to make a difference.
HearStrong was founded in 2013 with a vision to radically change the general public's perception of hearing loss and hearing aids. More than 80 percent of Americans with hearing loss let it go untreated. In response, HearStrong identifies and celebrates remarkable people who treat their hearing loss, so they can inspire others to do the same.
Hearing loss advocacy has been important to Brett Selke for most of his life. Brett greatly benefited from a newborn hearing screening law passed shortly after he was born. After being tested at just six months old, his family discovered he had hearing loss, and he's been wearing hearing aids ever since. Now, Brett is a senior in high school, and hopes his story will inspire other families who have kids with hearing loss.
Emily Brown experienced hearing loss when she was 11 years old, while undergoing treatment for osteosarcoma, a type of bone cancer. More than two decades later, she is a survivor and part of a OneCure initiative that supports experimental treatments like the one that saved her life. By sharing her story, Emily has helped to raise more than $270,000 for the program.
"I think what makes me a HearStrong Champion is that I don't care that I have a hearing loss and wear hearing aids," she says. "It doesn't make me weird or different. My acceptance of needing hearing aids makes me a good role model to little kids and teenagers who feel uncomfortable with them."
Vanessa Hunter recently had the opportunity to hear for the first time after being fit for her first pair of hearing aids with the help of HearStrong and Sertoma Speech & Hearing Center. Growing up, Vanessa relied on ASL in a community that lacked education on the matter. This challenge caused her to stop going to school, despite her passion for learning. Years later, she connected with the Cook County Sheriff's Department and they went above the call of duty to help Vanessa complete her degree. Today, she's applying to college.
Over the years, HearStrong has partnered with many influential figures who are passionate about driving the hearing loss awareness movement. This event included appearances by HearStrong ambassadors, including Sarah Spain, ESPNW reporter, and representatives from the Chicago Bears. Chance the Rapper, humanitarian, singer/songwriter and producer also made a video tribute to the Champions.
Also in attendance, were representatives from EarQ, The National Basketball Retired Players Association, Oticon Inc., Widex USA, Starkey Hearing Technologies, and Signia USA—HearStrong sponsors who have displayed generosity and a commitment to the mission.
With influential individuals backing the organization, HearStrong is primed to be lead the hearing healthcare movement; however, there is still work left to be done. Please contact 866-432-7500 or email info(at)hearstrong.org to learn how you can get involved with HearStrong.
About HearStrong:
HearStrong is a 501(c)(3) not-for-profit organization that seeks to shatter the stereotypes surrounding hearing loss and its advanced solutions by honoring the accomplishments of those who have overcome hearing loss and inspire others to do the same. Supported by the dedication of EarQ providers, the foundation is a worldwide advocate for hearing loss awareness, education and support. For more information about the organization, or to nominate a HearStrong Champion, please visit hearstrong.org or contact 866-432-7500