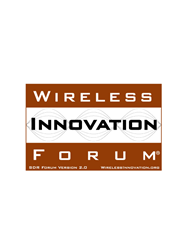 WASHINGTON, D.C. (PRWEB) November 29, 2017
The Wireless Innovation Forum, a non-profit international industry association dedicated to driving the future of radio communications and systems worldwide, today announced election by its membership of four new Board of Directors members: Marc Adrat of Fraunhofer FKIE, Jean Philippe Delahaye of DGA: Direction Générale de l'Armement, John Glossner of Optimum Semiconductor Technologies, and Pierre-Jean Muller of RED Technologies.
Dr. Marc Adrat is Head of the Software Defined Radio Research Group at the Fraunhofer-Institute for Communications, Information Processing, and Ergonomics (FKIE) in Wachtberg, Germany. He has more than 10 years of experience in mobile tactical communications. He has been one of the primary advisors for the German government throughout the entire execution of the SDR development project SVFuA (Streitkräftegemeinsame Verbundfähige Funkgeräteausstattung). He has also high interests in waveform applications for coalition interoperability. He is deeply involved in multinational standardization activities for both wideband and narrowband wireless networking solutions. With respect to the idea of interoperability through portability of waveforms, the Software Communications Architecture (SCA) plays another essential role in his research interests. He received his Diploma degree in 1997 and his Doctoral (Ph.D.) degree in 2003 from RWTH Aachen University, Germany. For nearly 10 years he also has given lectures on modern forward error correction techniques and digital modulation at RWTH Aachen University. He is also an active member in the Forum, acting as an advisor for the steering group of the Software Defined System Committee and contributing to a variety of that committee's working groups. He has already been on the board of directors in previous years and served as the General Conference Chair for WInnComm-Europe 2017.
Jean-Philippe Delahaye is the SDR technical expert for the French SDR tactical military radio program called CONTACT at the French armament procurement agency DGA. Since he joined the DGA in the Information Warfare Technology Center called "DGA Information Superiority Unit" in 2007, Jean-Philippe has worked on SDR and specifically on hardware, software architecture and standard technologies. He is also involved in the European level in the ESSOR Programme and in the AED SDR Standardization Strategic Guidance Working Group. Since several years, he is involved SDR Standardization in the WinnF SDS Committee and the Advisory Council. Jean-Philippe received his MS in Telecommunications from the National Institute of Telecommunications "Telecom ParisSud" and his Master Degree in Electronics from the University of Paris 11, both in 2003. He received his Ph.D. Degree in Electronics from the University of Rennes 1, France in 2007 with research interest focused on reconfigurable heterogeneous architecture in SDR.
Dr. John Glossner is CEO of Optimum Semiconductor Technologies, Inc. dba General Processor Technologies, the US division of China-based Wuxi DSP. He also serves as President of the Heterogeneous System Architecture Foundation (HSAF). Prior to joining OST, Dr. Glossner co-founded Sandbridge Technologies and served as EVP & CTO. Prior to Sandbridge, he managed both technical and business activities in DSP and Broadband Communications at IBM and Lucent/Motorola's Starcore. Dr. Glossner received his Ph.D. in Electrical Engineering from TU Delft in the Netherlands, M.S. degrees in E.E. and Eng. Mgt. from NTU, and holds a B.S.E.E. degree from Penn State. He has more than 120 publications and 38 issued patents.
Pierre-Jean Muller is a telecommunications executive veteran with 25 years of international experience within the wireless industry including Bell Labs, NEC and Huawei. Pierre-Jean is the co-founder and CEO of RED Technologies, a leading start-up of innovative spectrum management, the premier enabler of Licensed Shared Access (LSA) with its LSAlive© cloud-based solution and SAS Administrator applicant for the 3.5 GHz CBRS band in the US. Pierre-Jean is a frequent speaker at international technology conferences and has hosted several elected positions in ETSI and 3GPP. He is the author of 20+ patents in the telecommunication field.
The Forum would like to thank outgoing members Linda Doyle of CONNECT, Claudio Armani of Leonardo, Darcy Swain Walsh of the MITRE Corporation, and David Renaudeau of Thales for their service.
Individuals continuing on the Board include Bruce Oberlies of Motorola Solutions as Forum Chair, Claude Belisle of NordiaSoft as Forum Board President, R. Muralidharan of Tata Power SED as Vice Chair, Ken Dingman of Harris as Treasurer, Al Jette of Nokia as Secretary, Louise Lamont of CRC as Chief Technology Officer, Manuel Uhm of National Instruments as Chief Marketing Officer, Mark Gibson of CommScope Company as Chief Regulatory Officer, David Hagood of Cobham as Large Company Representative, Alberto Quintana of Indra Sistemas as Medium Company Representative, Kurt Schaubach of Federated Wireless as Small Company Representative, Paul Anuszkiewicz of CTIA as Government and Non Profit Representative, Preston Marshall of Google as Member at Large, Neeti Tandon of AT&T as Member at Large, Doug Knisely of Qualcomm as Member at Large, and Paul Challoner of Ericsson as Member at Large.
Management and oversight of the Forum as a whole, including the Forum's corporate affairs, is performed by the Forum Board of Directors. WInnForum members are dedicated to advocating for the innovative use of spectrum and advancing radio technologies that support essential or critical communications worldwide. Through events, committee projects and initiatives the Forum acts as the premier venue for its members to collaborate to achieve these objectives, providing opportunities to network with customers, partners and competitors, educate decision makers, develop and expand markets and advance relevant technologies. To learn more about the Forum visit http://www.WirelessInnovation.org.
About the Wireless Innovation Forum
Established in 1996, The Wireless Innovation Forum (SDR Forum Version 2.0) is a non-profit mutual benefit corporation dedicated to advocating for spectrum innovation, and advancing radio technologies that support essential or critical communications worldwide. Members bring a broad base of experience in Software Defined Radio (SDR), Cognitive Radio(CR) and Dynamic Spectrum Access (DSA) technologies in diverse markets and at all levels of the wireless value chain to address emerging wireless communications requirements. To learn more about The Wireless Innovation Forum, its meetings and membership benefits, visit http://www.WirelessInnovation.org.