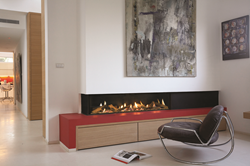 CANOGA PARK, Calif. (PRWEB) November 30, 2017
Ortal, the world's premier designer and builder of high-end contemporary frameless gas fireplaces for more than 30 years, will kick off 2018 by introducing a new product line and additions to existing products at four important industry trade shows. In order to reach new customers and remain competitive, Ortal will exhibit at shows geared towards architects, designers, showroom owners, homeowners and builders. The Ortal team has an ambitious approach, but they feel they have the product lines to suit the needs of each demographic.
INTERNATIONAL BUILDERS' SHOW (IBS)
Starting off the year in Orlando, Florida, Ortal will launch a new product assortment line that utilizes the same high-quality construction as all Ortal offerings, along with their most popular styles and finishes.
This new line, named Lyric, will be introduced at the International Builders' Show (IBS), January 9 – 11, 2018 at booth #S2644.
INTERIOR DESIGN SHOW (IDS)
Traveling from Orlando to Toronto, Ortal will be exhibiting at the Interior Design Show (IDS) held in the Toronto Exhibition Center January 17 – 20, 2018 at booth #220. IDS caters to an audience searching for the best in design. Designers and architects frequent the show seeking products for residential and hospitality projects. At IDS, Ortal will pull out all the stops and showcase its sleekest gas fireplaces, which includes the latest Indoor/Outdoor and Three Sided model with a Granite porcelain interior.
HEARTH, PATIO AND BARBECUE EXPO (HPBEXPO)
Rounding out the first quarter is the Hearth, Patio and Barbecue Expo March 8 – 9, 2018 at booth #2434, which is held in Nashville, Tennessee at the Music City Center. This highly targeted trade show is where Ortal reaches its core audience of dealers and showroom owners – individuals who carry Ortal's products and who themselves are looking to see what new and exciting products they can add to their inventory.
HD EXPO
Ortal's final show of 2018 will focus on the hospitality market at HD Expo May 2 – 4, 2018. Known as the industry's leading hospitality conference and trade show, Ortal will feature some of its contemporary products for hoteliers, commercial designers and architects at booth #1811.
About Ortal
Ortal is the world's premier designer and builder of high-end contemporary frameless gas fireplaces. For more than 30 years, Ortal has led in its category by developing exclusive fire technologies to meet the most stringent requirements of architects, designers, builders and home and business owners. Ortal's fireplaces maximize radiant heat, providing a green, environmentally friendly heating solution for the modern era. Ortal has 10 collections, each with multiple sizes and finishes, which is what makes it architects' go-to brand. With meticulous attention to detail, Ortal has built a reputation on its uncompromising quality of materials, finish, safety standards, ease of installation and end-to-end services. For more information, please visit http://www.ortalheat.com.