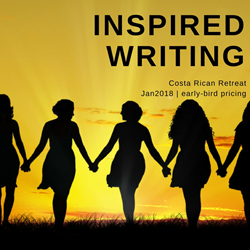 "If you have no idea where to start, or how to make your book dream a reality, Amy is the best gift you can give yourself. Her workshops are well organized and packed with hands-on​ opportunities to do the work and receive the feedback you need to propel your book forward." -TaKisha Adams
(PRWEB) November 29, 2017
Experienced and new writers are invited to boldly adventure in Costa Rica for a 5-day, 4-night retreat focused on reconnecting with their inner message. Author, Book Coach, and Publisher, Amy R Brooks will facilitate group and individual sessions with time for daily reflection and revisions.
All-Inclusive Retreat (Overview):
Locally-sourced, whole food/plant-based meals
Lodging at Living Forest (5 days/4 nights)
Daily AM yoga
Morning & Afternoon group writing workshops
Daily Sacred Soul and VPP Alignments
60-minute full-body massage
Excursion to the Arenal Ceiba Tree
(inspiration for Avatar's "Tree of Life")
Outing: drinks, dinner & dessert at 3 local restaurants
Full Moon Ceremony
2 BONUS nights at El Velero hotel on the Pacific beach
Shuttle transfer to and from El Velero to Living Forest
Reflections from past participants:
"I was grateful I was able to take part in Amy's writing retreat in July. I knew I love to write, but I actually didn't have plans on writing a book. Little did I know, that suddenly during one of our morning workshops I realized that I too am to write a book. Due to Amy's encouragement and knowledge about the whole process, I felt totally inspired and supported to commit to this creative endeavor. Thank you, Amy, you are pure magic!" -Johanna Harmala
"Amy's enthusiasm and skill set are a gift for anyone wishing to bring their book to life! She's witty, sincere, and tough all at the same time – which makes her an awesome-ness coach! She has the ability to see every facet of creating – even when you don't! Love her!"
Marlene Campini
"Amy has quietly held space for me as I navigate the writing waters…. her guidance and love show me so much power and grace in telling your story not just for your own healing but to heal others. Amy takes time to hear, to truly listen to the Heart in the story and the pain on the journey. She is, as a woman, daughter, friend, wife, Mother, Author, and Spiritual Divine Goddess being a force of creative nature and I am beyond grateful and blessed she shared her gift of words, guidance, and love with this world! My admiration for her clearly runs deep…. thank you, Amy, for honoring YOUR gifts! BIG gratitude and Reiki love to you, gorgeous girl!"
Maggie Griffin
Retreat Organizer- Amy R Brooks:
"Have you ever tried to write a book?
Maybe you got all excited about the insights and stories you could share. Before typing a single word, you quickly transitioned to visualizing people eagerly buying your book and reading it during their commute, in the tub, or on a sunny beach somewhere. Your book ambitions continued to grow until you felt so much pressure to make a difference in the life of every future reader, that you weren't really sure where you should start your masterpiece. What should the first word be? The first chapter? How do you incorporate dialogue without it feeling clunky? Chapter titles or nah?
Then you realized you had sooo many
...questions that you didn't really know how to answer.
...steps between your great idea to an actual book in your hands.
...things on your plate right now.
...reasons why you shouldn't share your wisdom after all.
It is completely understandable why so many people give up on their book dreams before they even start.
I had the desire to write my first book and I was determined to get 'er done before I could talk myself out of it. (I still remember when I almost convinced myself to start several other books instead of finishing what I had started).
I know why I successfully finished my first book, "Stuff Your (Super) Mom Forgot to Tell You..."
-I had several supports, some paid and some free, that helped me stick to my plan.
-I also had the advantage of several degrees related to writing and 16 years as a writing teacher.
-I had the will, resources, and encouragement I needed at every turn.
I would never characterize my experience with that first book as easy; it was definitely challenging on many occasions. Now I am a writing coach and I help other people write their first book. Sometimes I help my clients get clear on the idea, scope, and sequence of their book. Sometimes I provide guided healing sessions around unexplainable stumbling blocks that keep getting in their way. Sometimes I work with them one-on-one, in groups, in-person or online. I have even ghostwritten four books for clients. Through my company VoicePenPurpose, I also provide editing, formatting, cover design, and publishing services. It's all groovy stuff that has allowed me to connect with amazing people and their powerful stories.
One of my FAVORITE ways to support first-time authors is at in-person events. Over the past few years, I've held workshops and retreats in the US and here in Costa Rica. The nervous/excited/curious energy of aspiring authors is contagious and encourages everyone in the space to take risks and expand expectations.
My favorite-favorite way to interact with writers is with immersive experiences like the ones I host here in Costa Rica. It's an easy flight into the brand new Liberia airport and then a quick 90-min drive to our retreat center. I have one Costa Rican writing retreat planned for 2018 and it's already fast approaching!
From January 28-Feb 1, I will be hosting the Inspired Writing Retreat at the Living Forest Retreat center in the lush mountain rainforest near Lake Arenal and two neighboring volcanos.
Our days start with silent journaling and yoga before transitioning into a relaxed breakfast (with talking permitted!) made from local fresh fruits and vegetables. The rest of each day is filled with writing workshops, healing sessions, guided meditation, independent writing time, massages, excursions to local sites, bonfires, river/lake visits, and relaxation.
Can you imagine taking a break from your winter routine? What would that feel like? If you notice a nervous twinge in your belly or a spark of curiosity in your soul, send me a PM and we can talk about how you can join me in Costa Rica in 2018. This is a magical place that can change your life; it can open you up to ideas and options you never thought possible.I enjoy helping women tune into their message with love and openness. Birthing your book is no small task, but when you are in community with others who are at the same stage it can make all the difference! Group work is so energizing!
Taking the brave step to leave the routines of everyday life and travel to Costa Rica for dedicated writing time is a BIG DEAL. The Universe loves bold action and your bravery will be rewarded!
During our retreat, you will receive daily energy alignments so you can have a deeper understanding of your life purpose, your book's message, and the "next right step" in your writing process. I'll be there to help you interpret your guidance and translate it into book content. Everyone at Living Forest and I are a supportive team ready to help you all along the way!"