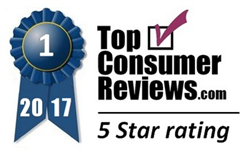 Via:Talk is the go-to site for VoIP services... We gladly award Via:Talk our highest ranking among VoIP services in 2017.
Overland Park, KS (PRWEB) December 01, 2017
TopConsumerReviews.com recently awarded their highest five-star rating to Via:Talk, a frontrunner in VoIP services.
In today's digital society, the trend is to go wireless - and phones are no exception. Traditionally, people used a landline to have service at home, even if they had a mobile phone for other uses. However, more consumers are turning to VoIP services: in other words, using their home internet connection to place and receive calls through Voice over Internet Protocol. With the same services available as with a standard landline, including voicemail and caller ID, there's almost no reason not to use a VoIP plan for most households. The benefit is a tremendous cost savings, especially for expensive international calls.
"Via:Talk is the go-to site for VoIP services," explained Brian Dolezal, of TopConsumerReviews.com, LLC. "Whether you need business or residential service, you'll find Via:Talk's plans to be affordable and comprehensive, with all of the features people want. These include call forwarding and call waiting, caller ID, anonymous call rejection, and three-way calling. Via:Talk also has helpful customer service representatives available via online chat or a toll-free number. We gladly award Via:Talk our highest ranking among VoIP services in 2017."
To find out more about Via:Talk and other VoIP services, including reviews and comparison rankings, please visit the VoIP category of TopConsumerReviews.com at http://www.topconsumerreviews.com/voip/.
About Via:Talk
Via:Talk is part of the HostRocket brand group. HostRocket is a privately owned, multi-million dollar, debt-free corporation located in New York's Tech Valley that provides shared Wedding Planning software services to approximately 100,000 top websites and offers internet phone service in 2,200 markets in all 50 states through sister VoIP company ViaTalk, LLC.
About TopConsumerReviews.com
TopConsumerReviews.com, LLC is a leading provider of independent reviews and rankings of hundreds of consumer products and services. From VOIP Services to Business Phone Systems and Home Security, TopConsumerReviews.com delivers in-depth product evaluations in order to make purchasing decisions easier.