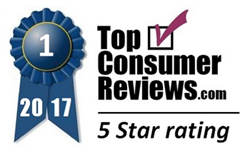 Healing Natural Oils has been involved in the health industry for almost 20 years, with all-natural products for a variety of conditions.
(PRWEB) December 02, 2017
TopConsumerReviews.com recently gave a best-in-class 5-star rating to Healing Natural Oils' H-Warts, a leader among online retailers of products for Warts.
What does it take to get rid of Warts? Freezing and burning are two of the methods used for handling this condition that typically affects the hands and feet, but that approach isn't always effective. Furthermore, not everyone has the time or money to see a physician for the medical-grade freezing and burning techniques that are often required to get the Warts to disappear completely. For that reason, many individuals turn to over-the-counter products to tackle Warts; a wide variety of products are available for purchase online, making it even faster and easier to get relief from this annoying skin condition.
"Healing Natural Oils has been involved in the health industry for almost 20 years, with all-natural products for a variety of conditions," stated Brian Dolezal of TopConsumerReviews.com, LLC. "Their H-Warts product is a fantastic addition to their product line, using Phytolacca decandra and other earth-friendly ingredients to fight several types of common warts. Most users see improvement within two weeks, but some customers report seeing improvement much more quickly than that. Best of all, Healing Natural Oils backs every product, including H-Warts, with a 90-day money-back guarantee, giving people plenty of time to see if the problem is handled effectively. Healing Natural Oils H-Warts product is the logical choice for our top Warts product in 2017."
To find out more about Healing Natural Oils and other online retailers of products that address Warts, including reviews and comparison rankings, please visit the Warts category of TopConsumerReviews.com at http://www.topconsumerreviews.com/warts/.
About Healing Natural Oils
For more than 10 years, Healing Natural Oils has aimed to provide only the finest natural products which are ethically produced using the best quality, natural ingredients available. Their formulas have been tried and tested over many years, with positive feedback from thousands of satisfied customers. All of their products are manufactured entirely within the US, with no animal testing or animal products used. Healing Natural Oils also supports many local, regional, and international charities and causes.
About TopConsumerReviews.com
TopConsumerReviews.com, LLC is a leading provider of independent reviews and rankings of hundreds of consumer products and services. From Warts to Stretch Marks and Anti-Aging Creams, TopConsumerReviews.com delivers in-depth product evaluations in order to make purchasing decisions easier.