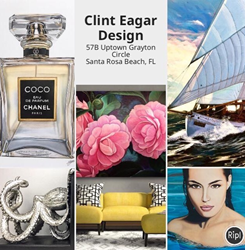 Make Life Beautiful!
SANTA ROSA BEACH, Fla. (PRWEB) November 29, 2017
Clint Eagar Design Gallery is going to have a special Holiday Open House on December 14, 2017 starting from 3:00pm. You are invited to some Holiday festivities and cheer. Enjoy demo painting, wine and refreshments. See some of Clint's latest works and designs, and a raffle draw art give away.
Clint Eagar, industrial designer and artist, creates his own product line which includes fine art, tabletop accessories, sculpture, and textile products. During this holiday season, dress up your table with Eagar's embroidered placemats, decorate your living room with Eagar's accent pillows, impress your guests with Eagar's handmade tabletop centerpieces, and lighten up your holiday with Eagar's fine art.
When: December 14, 2017
Time: 3:00pm - 8:00pm
Location: Clint Eagar Design Gallery / Studio
57B Uptown Grayton Cir
Santa Rosa Beach, FL 32459
Contact: Effie Niu
Telephone: 224-715-2252