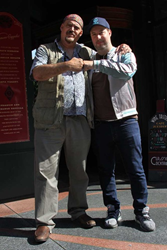 I look forward to hand picking the next generation of film students who are the best of the best, and help them break through into the film industry working alongside of A-list industry veterans. - Jeffrey "Blue Shark" Gliwa
SAN FRANCISCO (PRWEB) November 29, 2017
Expanding on the indie tradition established in San Francisco by Christopher's uncle, Francis Ford Coppola, they will employ film students, to both save money and stimulate what could become an indie hub for filmmaking.
The whole method of how we do everything is from the Roger Corman world of B- movies—genre based," Gliwa explained.
"A lot of what I do is about bringing independent film back to San Francisco," Coppola said. "I have students working on professional productions all the time—learning by doing."
About Jeffrey Gliwa: Jeffrey Gliwa (known as "Blue Shark") is an executive producer and founder of Blue Shark Pictures, LLC. He translated his talent for production and promotion into film fund raising ventures with a focus on introducing legacy talents to the industry.
Blue Shark Pictures specializes in pairing talented, up and coming aspiring filmmakers with industry veterans and helping them break through in the film industry.
Blue Shark Pictures Website
http://bluesharkpictures.com/
Jeffrey Gliwa's Website
http://jeffreygliwa.com/
Jeffrey Gliwa's IMDB Page
http://www.imdb.com/name/nm7627683/