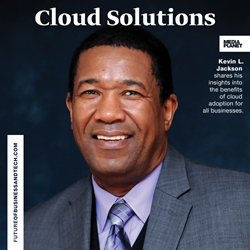 By 2018, half of IT spending will be cloud-based.
New York, NY (PRWEB) November 29, 2017
Mediaplanet announces the launch of this November's edition of "Cloud Solutions." This campaign will serve as an educational platform to inform readers about the power of efficient data management and the benefits of shifting to a cloud platform.
The cloud offers businesses a cost-effective, agile, and secure way to optimize applications and workloads. By 2018, half of IT spending will be cloud-based. Business decision makers seek the top services that allow their organizations to keep up in the ever-growing online landscape, and this campaign combines the experts behind the cloud, sharing insightful information on how to take your business one step further.
The print component of "Cloud Solutions" is distributed within today's edition of the San Francisco Chronicle, with a circulation of approximately 163,000 copies and an estimated readership of 500,000. It is also distributed at nation-wide tech events from launch throughout Spring 2018. The digital component is distributed nationally, through a vast social media strategy and across a network of top news sites and partner outlets. To explore the digital version of the campaign, click here.
Cloud expert David Linthicum shares, "the ability to change at the 'speed of need' and the ability to expand quickly to accommodate the business is where the real money is made with cloud computing." To further fight for the power of the cloud, IT professional Kevin L. Jackson adds that cloud service providers "are very secure... with the most cost-effective solutions."
This campaign was made possible with the support of Kevin L. Jackson, David Linthicum, VMware, SignalFx, Interop ITX, Strategic and Competitive Intelligence Professionals (SCIP), IoT News, Informa Telecoms & Media, the Silicon Valley Education Foundation (SVEF) and more.
About Mediaplanet 
Mediaplanet specializes in the creation of content marketing campaigns covering a variety of industries. We tell meaningful stories that educate our audience and position our clients as solution providers. Our unique ability to pair the right leaders with the right readers, through the right platforms, has made Mediaplanet a global content marketing powerhouse. Our award-winning stories have won the hearts of countless readers while serving as a valuable platform for brands and their missions. Just call us storytellers with a purpose. Please visit http://www.mediaplanet.com for more on who we are and what we do.
Press Contact:
Tyrell Charles
tyrell.charles(at)mediaplanet.com
(646) 255 - 7619