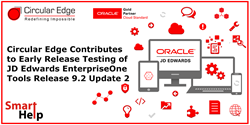 As early reviewers, we were able to get a thorough understanding of how these new enhancements can streamline integrations and modernize the user interface to deliver better integrated ERP/CX digital experiences.
SOMERSET, N.J. (PRWEB) November 30, 2017
Circular Edge, a Gold level and Cloud Standard member of Oracle PartnerNetwork (OPN), is honored to have contributed to early release testing of Oracle's JD Edwards EnterpriseOne Tools Release 9.2 Update 2.
Extending its commitment to JD Edwards EnterpriseOne applications, Oracle recently announced Tools Release 9.2 Update 2, which includes Notifications enabling users to be in touch with events that happen continuously throughout the enterprise and to quickly take action on those events, Orchestrator enhancements to drive digital process transformation and operational simplification, and updated Platform Certifications.
These Oracle solutions provide customer-driven product updates that empower companies on their journey to becoming digital enterprises while providing transformative solutions to innovate in the digital economy and to run their business their way.
Circular Edge was among an exclusive group of Oracle partners to review and test the new features in advance of the release. During the early release testing program, the selected partners were granted full access to these tools to ensure their production readiness.
"Having this advanced access gives Circular Edge an advantage in supporting the success of our customers especially those who have been adopting continuous delivery and code current strategies," said sAchin cHoudhari, Chief Executive Officer. "In addition to accumulating in-depth knowledge and release expertise before the new software becomes generally available, participating in this beta testing program equips Circular Edge resources to be educators in helping our Smart Help customers develop new and innovative solutions faster and more efficiently."
Circular Edge's Smart Help is a skill-based support formula designed to cover all aspects of the JD Edwards and Oracle Customer Experience (CX) Cloud ecosystems in the support model that best suits each customer's business. Smart Help offerings range from skills enablement, backup support, discovery and advisory services, technical and functional skill supplementation, project and resource assistance, and full upgrades, implementations and international roll-outs, as well as a variety of ongoing support and managed services options.
By supporting the development of new JD Edwards features and functionality, Circular Edge also demonstrates its readiness and commitment toward the future success of JD Edwards customers, especially those who are managing hybrid clouds, migrating their JD Edwards to the public cloud, and those who are adopting various Oracle and industry-specific Software-as-a-Service (SaaS) solutions.
"We expect this release, which includes new functionality for Notifications and Orchestrations, could both modernize the user experience and increase productivity for many Oracle JD Edwards customers," said cHoudhari. "As early reviewers, we were able to get a thorough understanding of how these new enhancements can streamline integrations and modernize the user interface to deliver better integrated ERP/CX digital experiences."
"We are eager to have our partners contribute to early release testing," said Jeff Erickson, Senior Director of Product Management for Oracle JD Edwards. "This creates a positive customer experience with our latest applications, drives operational simplification from our tools features, and assures our customers they are on a securely-featured and certified platform."
To showcase these new features, Circular Edge is offering a JD Edwards EnterpriseOne Tools Release 9.2 Update 2 webinar, which will include a live demo. For more information and to register, click here.
For more information on Oracle's JD Edwards EnterpriseOne Tools Release 9.2 Update 2, view the recent announcement at Oracle.com.
About Circular Edge
Circular Edge, started in 2003, is a full-service Oracle JD Edwards and Cloud service provider. We work with a single point of focus—to help our clients enhance their operational efficiency, customer relations, and profits. Being a resolutely customer-focused company where the interest of the customer dictates every strategic decision, we have built the most diverse Oracle JD Edwards and Cloud resource pools. For more information about Circular Edge, visit http://www.circularedge.com.
About Oracle PartnerNetwork
Oracle PartnerNetwork (OPN) is Oracle's partner program that provides partners with a differentiated advantage to develop, sell and implement Oracle solutions. OPN offers resources to train and support specialized knowledge of Oracle's products and solutions and has evolved to recognize Oracle's growing product portfolio, partner base and business opportunity. Key to the latest enhancements to OPN is the ability for partners to be recognized and rewarded for their investment in Oracle Cloud. Partners engaging with Oracle will be able to differentiate their Oracle Cloud expertise and success with customers through the OPN Cloud program – an innovative program that complements existing OPN program levels with tiers of recognition and progressive benefits for partners working with Oracle Cloud. To find out more visit: http://www.oracle.com/partners.
Trademarks
Oracle and Java are registered trademarks of Oracle and/or its affiliates.